Dir/scr: Amit Kumar. UK-India-Netherlands. 2013. 88mins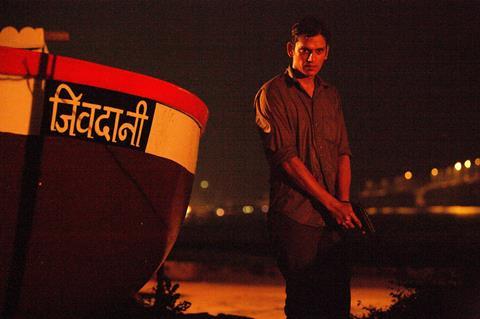 Serving up a portion of Rashomon with a side of Sliding Doors, this tasty Mumbai crime story offers multiple outcomes of one fateful decision in a rookie cop's professional life. Though it sounds like a potentially experimental premise, Monsoon Shootout is a glossy ethical drama designed to appeal equally to more upscale Indian audiences and worldwide genre fans.
Monsoon Shootout delivers it in a more hard-boiled package that will appeal to a younger demographic.
Debut writer-director Kumar has previously worked as associate director on films by Florian Gallenberger and Asif Kapadia, and with its crisp digital photography, flavoursome art direction and moody soundtrack, Monsoon Shootout has some of the made-for-export world cinema feel of the latter's The Warrior – but delivers it in a more hard-boiled package that will appeal to a younger demographic.
You can tell just by looking at upright, clean-cut police sub-inspector Adi (Varma) that he's a good boy from a good family and a stickler for the rule of law. This is challenged as soon as he's assigned to 'Dirty Harry' style inspector Khan (Kabi), a seasoned veteran who tends to kill uncooperative suspects and keeps telling his over-scrupulous young charge "don't think too much". Their mission is to track down the Slum Lord, who uses threats and extortion to control Mumbai rents and the construction industry – and who, we soon discover, also enjoys the protection of the minister in charge of the police department
On the evening he is supposed to be meeting his pure and virginal love interest Anu (Thapa), Adi is ordered by Khan to accompany him to a stake-out of one of the Slum Lord's enforcers, mean, axe-wielding Shiva (Siddiqui). When Adi tracks Shiva's down in a flooded alley in the driving monsoon rain and pulls his gun on him we have no reason not to buy Shiva's subsequent escape.
It turns out, however, that this is only of several ways that the showdown might have gone – something we realise only when the 'what if Shiva escaped?' hypothesis is carried to its sticky conclusion and we find ourselves back with Adi and Shiva in that alleyway, ready for the 'what if Adi shot and killed Shiva?' version of events – which won't be the last.
It's not an easy premise to make an audience swallow whole, but Kumar's fine script rises to the challenge. The plot back-ups are smoothly effected, and they function not only like extra lives in a video game, but also as a way of broadening out understanding of the characters, and introducing new ones – like Shiva's tough young son, Chhotu (Shaikh). The alternative-reality reruns also serve to highlight the problem of whether principles are a luxury, even a damaging liability, in such a profoundly corrupt city.
However, we yearn at time for some of the rawness of Anurag Kashyap's approach to the Indian underbelly. Sure, there's plenty of squelchy violence here, squalor and street flavours and the kind of atmospheric night lighting that Johnny To would be proud of. But deep down, we suspect that the film is as decent as its inflexibly nice protagonist.
Production companies: Yaffle Films & Sikhya Entertainment
International sales: Fortissimo Films, www.fortissimo.nl
Producers: Trevor Ingman, Guneet Monga, Martijn De Grunt
Executive producers: Asif Kapadia, Gitika Aggarwal, Lee Stone, Shahnaab Alam
Cinematography: Rajeev Ravi
Editor: Atanu Mukherjee, Ewa Lind
Production designer: Mayur Sharma
Music: Gingger Shankar
Main cast: Vijay Varma, Nawazuddin Siddiqui, Neeraj Kabi, Geetanjali Thapa, Farhan Mohammad Hanif Shaikh, Tannishtha Chatterjee, Sreejita De