Dir: Dan Scanlon. US. 2013. 102mins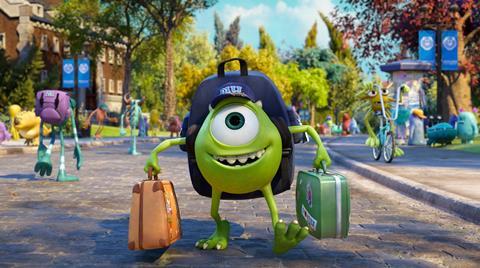 While it might lack the sheer sense of oddball freshness that Pixar's 2001 animated hit Monsters Inc. arrived with back in 2001, the engagingly raucous 'college-bonding' romp Monsters University is a bright, breezy, funny and beautifully presented film that will slug it out with Despicable Me 2 for the animated hit of summer award. The original film was one of Pixar's big hits and young fans will be eager to lap up this fun-packed prequel.
This colourful 3D comedy adventure is beautifully rendered.
While the story itself might be less than original – a mis-matched pair bicker and fight but gradually come to appreciate each other and overcome all odds – and the university romps familiar to any fan of college comedy titles, the familiarity with two much-loved lead characters (fast-speaking one-eyed Mike Wazowski and big'n'hairy natural scarer Sulley) is such that any audience will buy into the film and embrace this tale of how the pair came to be buddies.
Directed by longtime Pixar storyboard artist Dan Scanlon, this colourful 3D comedy adventure is beautifully rendered, with the scale of the college campus a vibrant mix of strange buildings, rolling vistas and wacky monster characters. Mixing your classic college comedy with a dash of Hogwarts style gothic genre, the film manages to layer in a few gently darker moments in amidst the breezy romps, and even a poorly judged (but entirely necessary) slow/bonding moment just before the beautifully staged climax – which may cause younger viewers to lose interest for a while – doesn't overly hamper the fresh and fun flow of the film.
A sweetly sketched prologue takes us back to Monsters Inc., the scare factory that sends monsters into the human world to terrify small children and harness their screams as a way of powering Monstropolis. Amongst the young monsters on a school field trip is the friendless but always up-beat Mike Wazowski (voiced as a youngster by Noah Johnston), determined to be a scarer despite the fact his one-eyed, round and green look is somewhat less than scary.
A few years later and he enrolls at Monsters University and heads to the School of Scaring class (a very Hogwarts sequence), where he has he has his first encounters with the terrifying Dean Hardscrabble (a nicely chilling voice performance from Helen Mirren) and more importantly the naturally scary Sulley (John Goodman), a cool and confident party monster and the opposite of Mike's wound-up bookworm.
As the genial but raucous James P. "Sulley" Sullivan, who comes from a long line of top-notch scarers, John Goodman offers the perfect balance of warm-hearted fun and is perfectly balance by Billy Crystal's smart and breezy turn as Mike, a motormouth would-be scarer whose confidence hides a certain lack of real ability.
Naturally, the pair find themselves thrown together, and when they are set to be thrown out of the School of Scaring realise their only option is to join the weakest of college fraternities, Oozma Kappa, as a way of competing in the annual Scare Games (cue little links to Hunger Games and the Triwizard tournament in Harry Potter And The Goblet Of Fire) which offers them the only opportunity to impress Dean Hardscrabble and get their places back on the programme.
It comes as no surprise that their close encounter with the college outcasts leads to the expected 'learning to work together' life lesson, though their battles against other fraternities in a series of games are amongst the highlights of the film. Refreshingly there are a few more twists along the way as well as a beautifully staged visit to the human world, before the film settles down to end with Mike and Sulley as the best of buddies and ready to take their chance to work at Monsters Inc.
As is so often the case with Pixar films, there is much to enjoy with the clever asides around the edges of the frame, and while the film has to tone down the actual scariness of some of the monsters (they do look a pretty friendly bunch on the whole) to click with its core very young audience, it does sneak in a few darker moments, and film fans will like the clinking keys on the cops' belts moments (in a reference to E.T.) when Mike and Sulley make their trip to the human world. The voice casting is spot on as usual with the likes of Steve Buscemi, Sean P. Hayes, Molina, Nathan Fillion and Aubrey Plaza offering beautifully judged performances.
The film will be preceded by the charming short The Blue Umbrella, a tale of soggy romance between a blue and red umbrella, made with such precise animation that it almost looks live-action at times.
Production company: Pixar Animation Studios
Distribution: Disney
Producer: Kori Rae
Executive producers: John Lasseter, Pete Docter, Andrew Stanton, Lee Unkrich
Screenplay: Daniel Gerson, Robert L. Baird, Dan Scanlon, based on a story by Dan Scanlon, Daniel Gerson and Robert L Baird
Cinematography: Matt Aspbury, Jean-Claude Kalache
Editor: Greg Snyder
Production: designer, Ricky Nierva
Supervising animator: Scott Clark
Music: Randy Newman
Main cast: (voices) Billy Crystal, John Goodman, Steve Buscemi, Helen Mirren, Peter Sohn, Joel Murray, Sean P. Hayes, Dave Foley, Charlie Day, Alfred Molina, Tyler LaBine, Nathan Fillion, Aubrey Plaza, Bobby Moynihan, Noah Johnston, Julia Sweeney, Bonnie Hunt, John Krasinski, Bill Hader, Beth Behrs, Bob Peterson, John Ratzenberger