Dir/scr: Mircea Crisan. Romania-France-Hungary. 2010. 100mins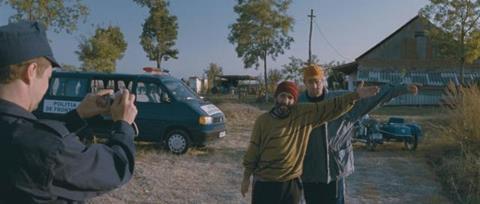 Mircea Crisan's first feature film, coming from the production house identified with the films of Cristi Puiu and produced by Puiu's spouse, Anca, takes Romanian neo-realism to new extremes in this tale of simple, decent people trying to do what they believe to be right despite laws and regulations that keep reminding them they can't. Set in Salanta, a small border town between Romania and Hungary, moving at the sometimes maddeningly slow pace that life has there, this is less a story about a Turkish immigrant trying to cross the border illegally into Hungary, and much more about the conduct of the town's inhabitants, a sort of moral tale which can never have a happy ending. Pure festival fare, any attempt to push it anywhere outside the art circuit is bound to fail. Morgen screened in competition at the Locarno International Film Festival.
Pure festival fare, any attempt to push it anywhere outside the art circuit is bound to fail.
Nelu (Hathazi) is a fortyish supermarket security guard and an amateur fisherman, who lives outside town with his wife Florica (Rimbu) in a dilapidated house badly in need of repair. One day he stumbles upon a Turkish man (Yalcin) hiding from the police in the nearby river. He takes him home, gives him dry clothes and when the stranger, who doesn't speak anything but Turkish, hands him all his money and explains somehow that he has to cross the border and go to Germany to join his son, Nelu promises to help him, despite his wife's vociferous threats and warnings.
For the rest of the film, Nelu will try to keep his promise, his wife will keep complaining, his brother in law (Zachei) will lend a less than enthusiastic hand, the police will come periodically around to do their duty, while Nelu and the stranger strike a strange friendship despite the fact that neither one speaks the other's language. In the end, it is finally up to Nelu, without anyone's assistance, to fulfill his promise at the risk of his own safety.
Shot in murky dark colors in which faces are hardly discernible but fit for the late autumnal season in which the film is supposed to unfold, it uses documentary-type single shots suggesting the lens is the actual eye of the filmmaker and the only available p.o.v. And since there is only one p.o.v. there is no reason to translate the Turk's impassionate soliloquies for if none of the people in the film understand him, there is no reason why the spectator should be any the wiser.
Crisan, a Salanta native, takes his time painting a portrait of his hometown and its inhabitants, their worries, concerns and hobbies, with much love and understanding. The illegal immigration is not really an issue for them - even the law would rather ignore it than take the trouble to enforce it. And if there is a bit of critical sarcasm here, it is directed at the strict Hungarians who wouldn't let a fisherman cross the border with his catch.
Production companies: Mandragora Films in collaboration with Slot Machine, Katapult.
Film Sales: Agathe Valentin (a.valentin@filmsdulosange.com), Lise Zipchi (l.zipchi@filmsdulosange.com), Thomas Petit (t.petit@filmsdulosange.com)
Producer: Anca Puiu
Cinematography: Tudor Mircea
Production design: Robert Koteles
Editor: Tudor Pojoni
Website: www.filmsdulosange.com
Main cast: Andras Hathazi, Yilmaz Yalcin, Elvira Rimbu, Dorin E. Zachei, Molnar Levente, Razvan Vicoveanu