Dir: Roger Michell. US. 2010. 108mins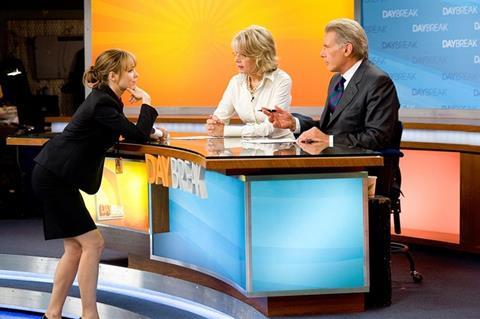 Though Morning Glory is ostensibly set in the world of network morning shows, audiences will quickly deduce that the film's proper residence is in the realm of fluffy, aggressively adorable romantic-comedies that have little bearing to the real world. Aspiring to be a lightweight pleasure but only sporadically possessing the necessary charm or magic, Rachel McAdams' first star vehicle isn't as bubbly as its lead.
The filmmakers quickly settle into an overly cutesy tone that feels like a glib, self-satisfied gloss on His Girl Friday or Broadcast News.
Opening domestically midweek on November 10, this Paramount offering will be facing only one comedy competitor, the male-skewing Due Date. With Harrison Ford and Diane Keaton luring in older viewers, Morning Glory may not have a gaudy opening gross due to McAdams' still-moderate box-office cachet, but could hold its own over subsequent weeks as date-night crowds decide to give it a try.
Recently hired as executive producer of a poorly rated national morning-news show, Becky (McAdams) gets the bright idea of pairing existing diva-like host Colleen Peck (Keaton) with semi-retired hard-news anchor Mike Pomeroy (Ford) to give the broadcast more clout. But Mike's contempt for morning news' innocuous fare causes tension between him and Colleen, not to mention makes it harder for Becky to enjoy her budding relationship with news producer Adam (Patrick Wilson).
Taking into account that Morning Glory is directed by Roger Michell (Notting Hill) and written by Aline Brosh McKenna (27 Dresses, adaptation of The Devil Wears Prada), it should be no surprise that this romantic-comedy straddles the line between realism and movieland fantasy, presenting the viewer with a high-pressure, media-centric work environment that nonetheless takes all sorts of creative license in order to craft its fizzy punch lines and silly romantic predicaments. Unfortunately, the filmmakers quickly settle into an overly cutesy tone that feels like a glib, self-satisfied gloss on His Girl Friday or Broadcast News.
This overly superficial tone extends to the performances, a shame considering the stable of dependable pros in the cast. McAdams was superb playing the flirty, effervescent girl next door in Wedding Crashers, but as the career-driven, socially awkward Becky she can't rise above the character's carefully calibrated clichés, resulting in a weird amalgam of forced ditziness and phoney pluck.
Just as disappointing is Ford, who plays against type as a high-minded condescending jerk who doesn't suffer fools. Regrettably, Ford's gruff performance lacks much wit — as with many of his recent roles, he seems to have lost the natural charm that used to make him such an empathetic presence. As for Keaton and Wilson, their roles are largely superfluous as Morning Glory slowly begins to establish itself as less of a love story and more of a battle of professional wills between crusty old Mike and openhearted young Becky.
Production company: Bad Robot
Worldwide distribution: Paramount, www.paramount.com
Producers: J.J. Abrams, Bryan Burk
Executive producers: Sherryl Clark, Guy Riedel
Screenplay: Aline Brosh McKenna
Cinematography: Alwin Kuchler
Production designer: Mark Friedberg
Editors: Dan Farrell, Nick Moore, Steven Weisberg
Music: David Arnold
Website: www.morningglorymovie.com
Main cast: Rachel McAdams, Harrison Ford, Diane Keaton, Patrick Wilson, Jeff Goldblum