Dir: David Koepp. US. 2015. 107mins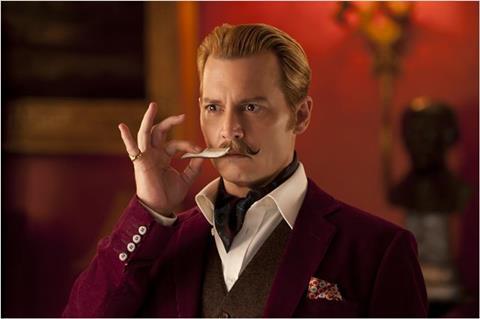 It is easy to see why Johnny Depp was drawn to the mischievously slippery, louche and charming fictional character of Charlie Mortdecai, and while he clearly has a great deal of fun playing the sly moustache-twirling British aristocrat the film just never quite works as it aims for knowing slapstick but ends up feeling like an extended skit with the joke outstaying its welcome.
Depp's Mortdecai moustache is – though – extremely impressive…and is rightly being used as a marketing tool all by itself.
Which is a massive shame, because Kyril Bonfiglioli's trilogy of Mortdecai books – Don't Point That Thing At Me, Something Nasty In The Woodshed and After Your With The Pistol – are wonderfully surreal and engagingly dark stories that have long deserved to be brought to the big screen. But with Depp's focus on false teeth (to gain a Terry-Thomas style gap); luxuriant moustache and broad comedy stylings this Charlie feels more like a modern-day relative of Captain Jack Sparrow than the deviously and deliciously amoral character he is in print.
Mortdecai, which opens in the UK, US and through Europe on January 23, will need all of the charm offensive that Johnny Depp can deliver it find a mainstream audience. The clever trailer that dwells on most of the good comedy moments will help its initial push – along with the strong cast that also includes Gwyneth Paltrow, Ewan McGregor and Paul Bettany – but it is likely it will soon fade theatrically.
Director David Koepp (who made Ghost Town and Premium Rush and who worked with Depp on Secret Window) aims to keep the pace up and the storyline shifts around the UK (well, mainly Oxford and London) before shifting to Los Angeles where the action level racks up, and then back to jolly old England for a caper style climax. It is shot in a glossy and breezy style but someone the combination of Depp's play-for-laughs performance and screenwriter Eric Aronson's rather lightweight script all but tones down the more glorious excesses of Charlie Mortdecai and his loyal (and wonderfully thuggish) manservant Jock (Bettany).
It has been pointed out in various book reviews over the years that Charlie and Jock are an amoral variation on PG Wodehouse's classic Wooster and Jeeves characters. This comes – in the books – from the manservant and master combination along with Charlie's love of bizarre cocktails, fine foods and alcohol of all kinds, but in the film it is more about Depp's appearance and environment – beautifully coiffured, elegantly and ornately dressed and living in a stately home – rather than the wit and bumbling batter that defines the Jeeves and Wooster stories.
Charlie Mortdecai is a bon vivant, man about town and occasional dodgy art dealer, permanently in money troubles as he tries to maintain the Mortdecai estate without having to resort to his wife Johanna (Paltrow) selling off her own possession to help pay the bills. When she returns to find him sporting a moustache that she finds physically repellent (one of the few good jokes in the film) he is soon packed off to the spare room.
Before long he finds himself asked to assist MI5 (in the form of Ewan McGregor's fawning Alistair Martland, who has had a crush on Johanna since they were all at Oxford University together) in tracking down a lost Goya painting that happens to be the key to claiming lost Nazi millions. The interweaving plot sees Charlie (and secretly Johanna) investigating what happened to the Goya; get involved with both a Russian gangster and a LA-millionaire; fight off a terrorist who wants to get the Nazi millions to fund his dastardly deeds and finally trying to rig an auction in his favour.
The fact that Joel Harlow (Depp's make-up artist since the first Pirates Of The Caribbean film) and costume designer Ruth Myers are so important to the film speaks volumes about the importance of look of the film (Myers was aiming for the style of the Pink Panther films) and more importantly the 'style' of Charlie's moustache. Depp's Mortdecai is a real eccentric peacock of a man and very much core of the film as he flits from one dangerous and disastrous moment to the next, but there is a sense the his eccentricity dominates just too much and makes the film all about the flourish and not the content.
Johnny Deep is know to be a fan of British comedy series The Fast Show, and there are moments (especially a gag scene involving Charlie with a shotgun out at a grouse shoot) that feel just like scenes from that show. The film also has The Fast Show performer Paul Whitehouse (who has appeared with Depp in Finding Neverland, Corpse Bride and Alice In Wonderland) starring as Charlie's dodgy car restorer Spinoza.
Alongside Depp, Gwyneth Paltrow has the right amount of glacial charm to convince as the equally aristocratic Johanna, while Paul Bettany is nicely cast as the thuggish woman-magnet Jock. Ewan McGregor is rather wasted in a lightweight role, as is Olivia Munn, who is simply asked to play pouting and provocative as the daughter of American millionaire Krampf (a minor cameo from Jeff Goldblum).
Technically the film looks terrific – though the animated links try just too hard – and while director David Koepp keeps things smooth and stylish, he rarely offers more than a pastiche of the Pink Panther style genre. Depp's Mortdecai moustache is – though – extremely impressive…and is rightly being used as a marketing tool all by itself.
Production companies: Lionsgate, OddLot Entertainment, Infinitum Nihil, Mad Chance
US/US Distribution: Lionsgate
Producers: Andrew Lazar, Johnny Depp, Christi Dembrowski, Patrick McCormick
Co-producer: Kenneth Kokin
Screenplay: Eric Aronson, based on the novel Don't Point That Thing At Me by Kyril Bonfiglioli
Cinematography: Florian Hoffmeister
Editors: Derek Ambrosi, Jill Savitt
Production designer: James Marifield
Music: Mark Ronson, Geoff Zanelli
Main cast: Johnny Depp, Gwyneth Paltrow, Ewan McGregor, Paul Bettany, Olivia Munn, Jeff Goldblum, Jonny Pasvolsky, Paul Whitehouse, Michael Culkin, Ulrich Thomsen, Michael Byrne