Dir: Bong Joon-ho. 2009. South Korea. 129 minutes.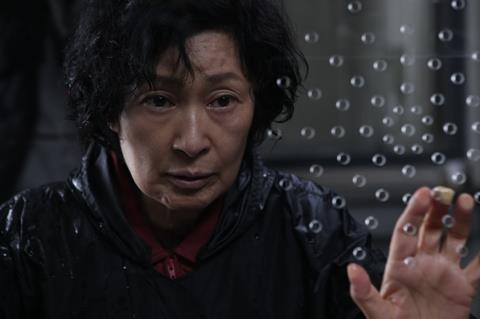 Bong Joon-ho channels Pedro Almodovar in his fourth feature, an operatic melodrama revolving around a knockout central performance from TV star Kim Hye-ja. Filled with the elegant compositions and mood-drenched cinematography which are becoming Bong's specialty, Mother is a largely satisfying film which marks the director out as South Korea's most versatile young auteur.
The combination of Bong and local TV star Kim should ensure enormous local success in Korea. Overseas, buyers might not be initially turned on by the title and an aging actress in the lead role, but once they see the world-class film-making and Hitchcockian murder mystery elements in the completed film, sales should be brisk to major arthouse distributors like Diaphana, which pre-bought France at AFM last year. It should comfortably beat Park Chan-wook's Thirst to the Korean Oscar submission.
Kim is renowned in Korea for playing a loving mother in long running TV series The Rustic Diary, so Bong is clearly toying with her public persona here by casting her as a mother whose devotion to her emotionally and mentally backward son leads her into some excessive behaviour. Her endlessly expressive face, racked with pain and anguish, is the central attraction here, helping to overcome some of the story's more far-fetched plot points.
The film takes a while to find its groove, and the first half hour feels unsure, playing for cheap laughs at the expense of a childlike adult, before the high drama kicks in. Even the pre-credit sequence in which Kim walks across a meadow and dances to camera implies the tongue-in-cheek playfulness prevalent in Bong's superhit monster movie The Host.
Hye-ja is an overprotective single mother in her fifties who always keeps an eye on her son Do-joon (Won Bin). Even though he's 27, he behaves like a child, forgets what he has said from one minute to the next and seems to have little sense of everyday dangers. In the opening scene, he is playing in the road with a dog when a large Mercedes Benz knocks him over and speeds off. Relatively unhurt, he and his best friend Jin- tae chase the Benz to the local golf course where Do-joon collects numerous golf balls before the two friends attack the Benz drivers with sticks.
Later that night Do-joon determines to go out and have sex with a girl but gets so drunk that he is thrown out of a bar. On the way home he follows a school girl home and propositions her, but she throws a rock at him and chases him away.
The next day, however, the police find the girl dead with one of the golf balls inscribed with Do-joon's name lying beside her. He is arrested and charged with murder.
His imprisonment spurs Hye-ja into action as her maternal instincts kick in. Convinced that her son is harmless, she determines to prove his innocence and investigates the case herself, learning more about the schoolgirl's personal life and identifying alternative suspects. Along the way, her own past reappears to haunt her.
Once the investigation begins, Hye-ja will apparently go to any length to liberate her son. Indeed, the surprises of the story as it spirals into Vertigo-style flashback and shocking revelations elevate the film beyond mere thriller into high-octane Almodovar territory. Lee Byeong-woo's wonderfully Herrman-esque score underlines the Hitchcockian influence, while cinematographer Hong Kyung-pyo (Eye For An Eye, Taegukgi) invests the rain-soaked milieus and gloomy interiors with stylized panache and bold lighting reminiscent of the all-at-night action of The Host.
Production companies
CJ Entertainment
Barunson
International sales
CJ Entertainment
(82) 2 2017 1191
Producers
Seo Woo-sik
Park Tae-joon
Screenplay
Park Eun-kyo
Bong Joon-ho
Cinematography
Hong Kyung-pyo
Production design
Ryu Seong-hie
Editor
Moon Sae-kyoung
Music
Lee Byeong-woo
Main cast
Kim Hye-ja
Won Bin