Dir/scr: Victoria Galardi. Argentina. 2010. 86mins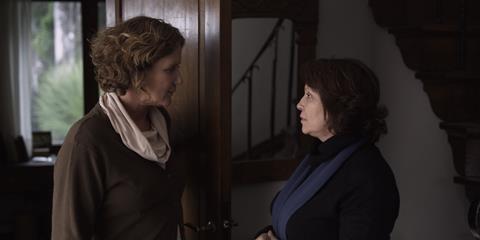 Victoria Galardi's quirky drama Mount Bayo is a diverting film driven by a series of fine performances. This ensemble film may well be slight in story and structure, but it is a well-made film deserving of attention.
Things twist and turn quite nicely…
It received its world premiere in Official Selection at the San Sebastian Film Festival, and could well crop up at other festivals, especially those favouring Latin American titles.
With ski season approaching in a small Patagonian town at the foot of Mount Bayo, one family's modest life is disrupted when the family matriarch attempts to commit suicide. As she lies in a coma, she is tended by her daughters – Marta (Adriana Barraza), who still lives nearby with her husband and two grown-up children, and Mercedes (Veronica Llinas) who flies back from Buenos Aires.
This oddly dysfunctional family deals with the situation in different ways, especially when news spreads that the old woman had recently won a good deal of money at a local casino. While Mercedes needs cash to cover debts back home, Marta simply wants to tend her mother.
Mart's son Lucas discovers the money and is planning an expensive snowboarding trio to Andorra, while his sister Ines (played spiritedly by Ines Efron) is interested in just one thing…winning a competition to become the face of the new Mount Bayo marketing campaign. She is sure her face looks stressed, and works out a theory – very amusing in the film – that she needs an orgasm to give her face a look of relaxation, and sets out tracking down either a man or a porno tape to help her reach her goal.
Things twist and turn quite nicely…everyone changes slightly and the money is a plot device rather than an actual end product. The Patagonian locations are impressive and the cast top-notch – especially Veronica Llinas as the far more mercenary Mercedes. Mount Bayo is a nicely balanced film – in truth it could have been a bit more quirky and odd, but it is diverting nonetheless.
Production companies/sales: Gale Cine, MyS Produccion, ICAA, www.galecine.com
Associate producers: Cindy Teperman, Charlotte Uzu
Executive producer: Milagros Roque Pitt
Cinematography: Julian Ledesma
Editor: Alejandro Brodersohn
Art director: Patricia Pernia
Main cast: Adriana Barraza, Ines Efron, Veronica Llinas, Nahuel Perez Biscayart, Guillermo Arengo