Dir: Bill Condon. US. 2015. 103mins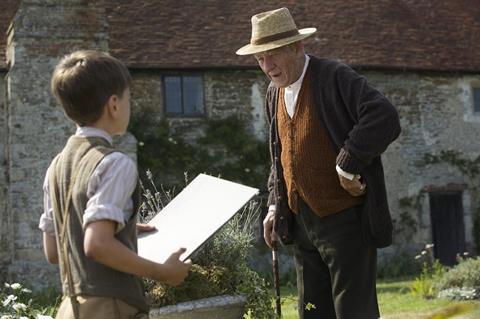 A beautifully mannered, gently moving and eminently thoughtful film that offers a delightful final twist on the story of the world's most famous detective, Bill Condon's Mr Holmes is an entertaining and absorbing film that interweaves several story strands and comes up with an enthralling portrait of a man whose powers may be fading but who still searches for answers. It also allows Ian McKellen a wonderfully nuanced role that is perfect for his lugubrious style and innate intelligence.
In one delightful sequence he goes to the cinema to see a film adaption of one of Watson's stories, just to see how he is presented on screen.
The film sees McKellen reunited with Condon after their Oscar-winning 1998 film Gods And Monsters – a fictional tale that also dealt with aging and a man (Frankenstein director James Whale) at the end of his days – and it is clear there is a shared trust in how to present Holmes. Some myths are punctured (no pipe or deerstalker here, and apparently 221b Baker Street was also an invention of Dr Watson), while the old support cast of Watson, Mycroft Holmes and Mrs Hudson play little part in this story of a 93 year-old Holmes tackling with supressed emotions as his mental powers dwindle.
It is beautifully shot – largely based around the remote house in the Sussex Downs where Holmes has retired to, largely to raise bees – and designed, with Jeffrey Hatcher's adaptation of Mitch Cullin's novel keeping away from the usual Holmes' clichés and coming up with an elegant story that closes circle on the legend of the master detective.
The film opens post Second World War, with Holmes returning from Japan where he has been in search of a rare plant named Prickly Ash which is rumoured to have restorative qualities and he hopes can help him keep his fading memory intact. He spends his days tending bees with his only company his housekeeper (Laura Linney) and her young son Roger (Milo Parker), but starts to challenge himself to recall the real aspects of his final case.
At heart Mr Holmes is about identity and morality, with the central strand the rather tender relationship between the fading detective and young Roger who encourages him to piece together the aspects of his long-forgotten case. Young Milo Parker makes for a feisty balance to the doddery Holmes, while Laura Linney exudes practical charm as the housekeeper at her wits end trying to deal with the eccentric detective.
Flashbacks to 1919 as Holmes investigates the mystery of a woman who may be plotting murder allows McKellen to play a Holmes still brimming with sharp wit and energy, but the heart and soul of the story is with the older version desperately trying to reconnect with lost recollections and at last facing the mistakes he has made.
In one delightful sequence he goes to the cinema to see a film adaption of one of Watson's stories, just to see how he is presented on screen (deerstalker and hat intact), with, in a clever bit of casting, the onscreen Holmes played by Nicholas Rowe, who played the teenage Holmes in Barry Levinson's 1997 film Young Sherlock Holmes. Gentle fun and astute insight define Mr Holmes – a fine addition to the list of stories about the great detective.
Production companies: AI Film, Archer Gray Productions, See-Saw Films partners, BBC Films
International sales: FilmNation, www.wearefilmnation.com
Producers: Anne Carey, Iain Canning, Emile Sherman
Executive producers: Aviv Giladi, Len Blavatnik, Christine Langan, Amy Nauiokas
Screenplay: Jeffrey Hatcher, based on the novel A Slight Trick Of The Mind, by Mitch Cullin
Cinematography: Tobias Schliessler
Editor: Virginia Katz
Production designer: Martin Childs
Music: Carter Burwell
Main cast: Ian McKellen, Laura Linney, Milo Parker, Hiroyuki Sanada, Hattie Morahan, Patrick Kennedy, Roger Allam, Phil Davies, Frances de la Tour, Nicholas Rowe, John Sessions, Frances Barber