Dirs: Bob Connolly, Sophie Raymond. Australia. 2011. 95mins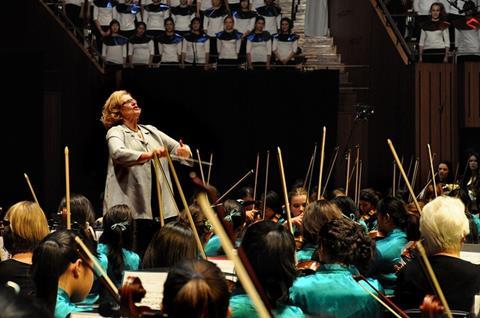 It's unusual for a film festival to open with a documentary, especially one with little chance of a commercial movie house release. But the world premiere of Mrs Carey's Concert at the Adelaide Festival was a notable event — an engaging account of teenaged music-making under the take-no-prisoners leadership of a ruthlessly dedicated teacher.
It's impossible not be deeply involved in Emily's butterfly-like arrival from her adolescent cocoon.
After 18 months of unobtrusive, back-of-the-classroom shooting (and 263 hours of rushes!) director/camera Bob Connolly and director/sound Sophie Raymond have crafted a revealing look at modern education, as "ratbag kids" turn into thinking, feeling adults before your very eyes. This moving, ultimately feel-good documentary has a guaranteed life at festivals and on broadcast television this year, and on DVD for schools and colleges for many years to come.
This is the veteran Connolly's first major work in a decade. His thorough, no-narrator style has made him perhaps Australia's finest documentary maker and this, his first with co-director Raymond, digs deep into both staff and students.
Of course it helps that the girls' school of which Karen Carey is Director of Music is a fee-paying ($22,420 per annum) inner-Sydney church-run establishment offering music scholarships to the best and brightest. "You girls are privileged beyond belief", she tells them truthfully. The facilities look amazing and Mrs Carey has established a biannual concert for the entire school at the Sydney Opera House, "the most elite venue in Australia", as she sells it to her gaggle of top girls, many of whom have an Asian family background.
Some, like Emily Sun, are already precociously talented musicians, though lacking in self-confidence and belief. Some, like broody Iris Shi, are utterly disinterested, outright scornful. Iris has inspired a gang of disengaged rebels who irresistibly remind one of the "cool" girls from Chris Lilley's TV series Summer Heights High. There's comedy here, and also some real dramatic tension when brazen Iris and equally determined Mrs Carey trade deeply-held convictions.
The story climaxes appropriately at the Opera House where we get over-lengthy excerpts from some difficult musical pieces. But it's impossible not be deeply involved in Emily's butterfly-like arrival from her adolescent cocoon. Her triumph is also Mrs Carey's.
Production company: Music Films
Aust/NZ sales: Music Films, info@mrscareysconcert.com
Producers:Bob Connolly, Helen Panckhurst
Cinematography: Bob Connolly
Editors: Sophie Raymond, Ray Thomas
Website: www.mrscareysconcert.com