On Body And Soul, Félicité among UK acquisitions.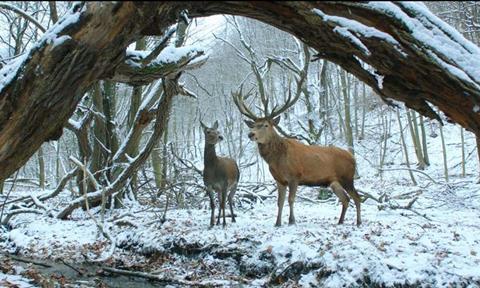 Streaming service MUBI has picked up a quartet of Berlin and Cannes titles for exclusive theatrical and VOD release in the UK.
From Films Boutique, the company picked up Berlin Golden Bear winner On Body And Soul by Ildikó Enyedi.
The Hungarian drama, which also won the Fipresci prize, chart the story of two introverted people, both workers in a meat-processing plant, who find out by chance that they share the same dream every night.
They are puzzled, incredulous and frightened. As they begin to accept this strange coincidence, they try to recreate in broad daylight what happens in their shared dreams.
From Jour2Fete, the company has acquired Alain Gomis' Berlin Silver Bear grand jury prize-winner Félicité.
The movie charts the story of a free-willed woman working as a singer in a bar in Kinshasa whose life is thrown into turmoil when her 14-year-old son falls victim to an accident. To save him, she sets out on a breakneck race through the streets of Kinshasa.
Also competing at Berlin was Chinese animation Have A Nice Day by Liu Jian, the story of a city in southern China and how a bag containing a million yuan draws several people from diverse backgrounds with different personal motives into a bloody conflict.
MUBI picked the film up from Memento.
Finally, the company has also tied up a deal with Luxbox for Oliver Laxe's Cannes Critics' Week grand prize-winner Mimosas.
The second film from French-born Spanish filmmaker Olivier Laxe follows a mysterious caravan carrying a dying sheikh into the Moroccan Atlas mountains. His last wish is to be buried with his loved ones. But death does not wait.
The caravaneers, fearful of the mountain pass, refuse to continue transporting the corpse. Ahmed and Said, two rogues traveling with the caravan, promise to take the body to its destiny.
All four films are due to get a theatrical release followed by an online debut via MUBI in 2017.
According to the online platform, the company also struck late 2016 deals with Gaumont International, Match Factory, Le Pacte, Doc and Film, Open Reel, Stray Dogs, Urban Distribution, Le Bureau and Rezo International.