Dir/scr: Jeff Nichols. US. 2012. 130mins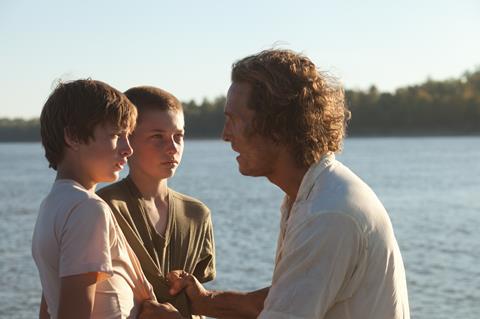 A conventional narrative may be a rarity in Cannes competition this year, but Jeff Nichols' Mud makes no apologies for its classic storytelling. A confident, nuanced, richly satisfying coming-of-age story which is part Huckleberry Finn, part Badlands, the film is another illustration that Nichols is becoming one of the most assured US auteurs at work today.
The influence of Terrence Malick is writ large in Mud.
A long running time and a slow-burning pace might be considered commercial restrictions here, but the critical response and word-of-mouth should be strong and the name cast led by Matthew McConaughey and Reese Witherspoon will only enhance box office chances. It's a film for adults, and yet, like Twain or To Kill A Mockingbird, it is devoid of bad language or excessive violence and could, one day, become a family perennial
Set in Arkansas on the banks of the Mississippi, Mud is essentially the story of 14 year-old Ellis (Sheridan), a plucky young man who lives with his bickering parents (Paulson, McKinnon) on a houseboat. One day, he and his best friend Neckbone (Lofland) set out to an island on the river to explore the unusual spectacle of a boat suspended high in the trees from some past flood. They discover that somebody has been living in the boat and soon meet the culprit - Mud (McConaughey), a grimy, superstitious man clearly in need of food and a wash, who asks them to bring him food.
While they do bring him supplies, they also discover that he is a fugitive from justice, wanted for the murder of a man who had beaten Mud's longtime girlfriend Juniper (Witherspoon) with whom he is now planning to run away.
Ellis, who is himself enjoying the first fruits of romance with a local girl, and at the same time reeling from the announcement that his parents are separating, becomes enamoured of the romantic story of Mud and Juniper, and helps Mud bring down the boat from the tree and get it operational and into the water so the two lovers can escape down river to Mexico.
But time is running out. The murdered man's brother and shady father (Baker) are in town with a posse out to find and kill Mud, and Ellis begins to discover that the romance between Mud and Juniper is not as simple nor perfect as he imagined.
Nichols doesn't break much new ground here and the themes and situations feel familiar from countless stories and previous movies. But he tells his particular story with elegance, wit and poignancy and never condescends to the boys who are both spunky and smart. He also elicits a fine performance from Tye Sheridan as Ellis whose confusion with the realities of adult romance and the world of girls rings painfully true.
The adult cast is also terrific from the increasingly impressive McConaughey to Witherspoon in a touching role as the complicated Juniper, and the always reliable Sam Shepard, Michael Shannon and Joe Don Baker.
The influence of Terrence Malick is writ large in Mud and there are parallels to Badlands and Days Of Heaven as well as David Gordon Green's Undertow, which Malick produced. Perhaps it's no coincidence that Malick's producer Sarah Green is also a producer on Mud.
Production companies: Brace Cove Productions, Filmnation Entertainment, Everest Entertainment
International sales: FilmNation www.wearefilmnation.com
Producers Sarah Green, Aaron Ryder, Lisa Maria Falcone
Executive producers: Tom Heller, Gareth Smith, Glen Basner
Cinematography: Adam Stone
Production designer: Richard A Wright
Editor: Julie Monroe
Music: David Wingo
Main cast: Matthew McConaughey, Reese Witherspoon, Tye Sheridan, Jacob Lofland, Sarah Paulson, Ray McKinnon, Sam Shepard, Michael Shannon, Joe Don Baker, Bonnie Sturdivant