Dir/scr: Manjeet Singh. India. 2012. 78mins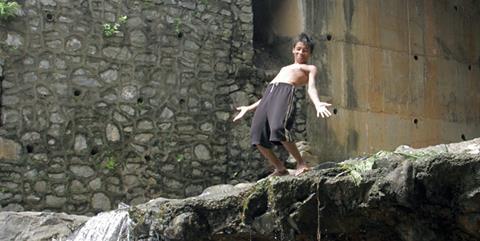 An artfully made counterbalance to mainstream Bollywood, Manjeet Singh's neorealist style drama is an elegantly shot and vibrantly colourful film that while slight in dramatic structure is shot with real style and marks him out as a director to watch.
Manjeet Singh always keeps things visually arresting.
The film, which screened at Toronto and the Abu Dhabi Film Festival, eschews the song-and-dance traditions that define so much of Indian cinema, and with its focus on young children trying to break out of their tough Mumbai life it offers classic observational drama though driven by a real visual style.
The film focuses on young Ruhui (Rahui Bairagi) and his younger friend balloon-seller Arbaaz (Arbaaz khan) as they roam the Mumbai slums, getting into various forms of trouble. At the heart of the story is Ruhui's troubled relationship with his drunken father, but though that is the dramatic spine of the film, where Mumbai's King really succeeds is in detailing the boys' low-key adventures – stealing candy, playing in water or following two girls, one in a lovely yellow dress – as they meander through the city.
At times the thin story is too meandering, but Manjeet Singh always keeps things visually arresting – with the bright and cheerful balloons a stark contrast to the surroundings. Much of the story is set during Ganesh Chaturthi, the festival devoted to Lord Ganesh, the Hindu deity beloved as the remover of obstacles.
Rahul's troubled childhood catches up with him on the Mumbai beach as he tries to deal with his brutal father while also protecting his stepmother and young brother, but his actions only incur further wrath from his father. The children are all non-professional actors, and while this shows when the pace slows to more dialogue-driven scenes their sheer zest and clear camaraderie is what helps keep the film fresh and engaging.
Production company/sales: Cinemanjeet Creations, cinemanjeet@gmail.com
Producer: Manjeet Singh
Cinematography: Siddharth Kay
Editor: Tinni Mitra
Music: Mathias Duplessy
Main cast: Rahui Bairagi, Arbaaz Khan, Salman Khan