Dir/scr: Charlie Weaver Rolfe. UK 2014. 92mins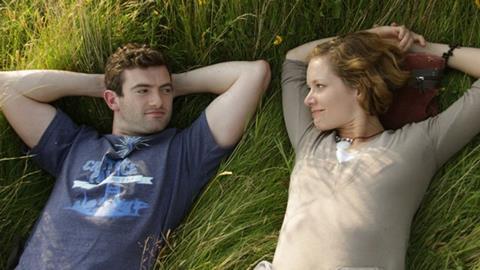 There is a modest charm and some promise to My Accomplice, a low-budget, partly crowd-funded, debut feature from writer/director Charlie Weaver Rolfe. The tentative central romance is engaging to a degree but tends to get lost as the eccentric, thinly sketched secondary characters, whimsical comic touches and intrusive musical interludes from local Brighton bands (Transformer, Bob Wants His Head Back, The Mountain Firework Company etc) all compete for attention and serve as varying degrees of distraction.
A cross between James McAvoy and a young John Gordon Sinclair, the handsome Stuart Martin has an easy, assured screen presence.
Further Festival interest may follow a world premiere at Edinburgh but theatrical prospects seem limited. Ultimately, the film may make its biggest impression as a showcase for rising Scottish actor Stuart Martin who revels real screen presence in his most substantial film role.
My Accomplice begins with the promise of something in the vein of Before Sunrise or Weekend. Frank (Martin) and Ilse (Alexandra Kalweit) meet on a cramped bus to Brighton running as a replacement service for a cancelled train. He tries to engage her in conversation and win her over with his dry humour.
She is from East Germany, works in a cafe and tries to find her talent as an artist. He is from Scotland and works as a carer for adults with learning disabilities. They meet again and a relationship seems possible although both of them are reluctant to take a chance on love. Any step closer to commitment inevitably sends one of them running in the opposite direction.
The reluctant romance and the question of whether it will blossom or wither might have been enough to sustain My Accomplice, especially with Rolfe and cinematographer Barbara Nicholls sketching in a lyrical sense of Brighton in the background. The way Frank and Ilse awkwardly try to negotiate their feelings is equally well handled. The scenes in which Frank is seen as a carer ring very true and are clearly inspired by the director's own life. There is an engaging cameo role for multiple gold-medal winning Special Olympics powerlifting champion Kevin Woolley.
Where the film falters is in trying to secure our interest in the eccentrics who surround Frank and Ilse from the cafe owner, to Ilse's grumpy landlord, the homeless man Frank befriends etc. They lessen the film's focus and make it feel as if the film is struggling to reach feature length or fully develop the central relationship which starts to drift away and winds up disappointingly elusive.
We learn something of why Ilse feels so damaged by the past but remain completely in the dark as to why the personable Frank would consider their big kiss to be "a bit fast, a bit too much".
A cross between James McAvoy and a young John Gordon Sinclair, the handsome Stuart Martin has an easy, assured screen presence and pitches his performance at just the right level to make Frank a charming, believable and completely engaging figure. If nothing else, My Accomplice proves that he has star potential.
Production company/Sales contact: John Said Productions, the waytoproceed@gmail.com
Producer: Martyn Holmes
Executive producers: Marlene Rolfe, Julie Christie
Cinematography: Barbara Nicholls
Editors: Charlie Behrens, Martyn Holmes, Tom Sands
Production designer: Lorna Copp
Music: Sally Magee
Main cast: Alexandra Kalweit, Stuart Martin, Dimitriana Elliott, Alan Gilchrist