Dir-Scr: Sergei Loznitsa. Ger-Ukr-Neth. 2010. 127mins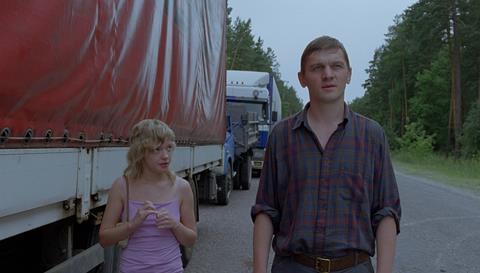 No good deed goes unpunished in the ironically titled My Joy, an intriguing but often messily impenetrable dramatic debut from award-winning documentary filmmaker Sergei Loznitsa. There are echoes of Michael Haneke's work in this rambling, nightmare journey through the dark soul of Russia.
Ultimately, is a film that shines intermittently but is likely to leave the viewer more perplexed than satisfied.
The film demands a considerable effort from the viewer to discern a bigger picture in the fragmentary narrative strands that Loznitsa attempts to weave together in his Kafkaesque parable. It's hard to imagine that many viewers will consider their patience sufficiently rewarded making the film a tough proposition for any potential arthouse distributor. Further Festival slots will undoubtedly follow the high profile Cannes Competition selection.
Loznitsa travelled extensively throughout the Russian provinces when he was making his documentaries. The accumulated anecdotes and life histories he gathered along the way have provided the inspiration for My Joy that was filmed in the Ukraine. Cinematographer Oleg Mutu (The Death of Mr Lazarescu, 4 Months 3 Weeks And Two Days etc) expertly captures the natural beauty of lush countryside, snow-dusted wintry landscapes and the shadowy, noirish tone of the film's darker moments.
Arresting opening images show a cement mixer in action as a body is dumped and quickly concealed on a building site. We then meet truck driver Georgy (Viktor Nemets) as he heads down the motorway on a routine delivery.
The first glimmer of unease comes from a random roadside check at the hands of sadistic police guards. He is then joined by a mysterious old man (Vlad Ivanov) who relates an incident from the immediate post-War period that illustrates a casual brutality among the forces of law and order. Caught in a traffic jam, Georgy then meets teenage prostitute (Olga Shuvalova).
He refuses her services but gives her food and money; acts of kindness that she finds offensive. Following what he believes to be a short cut, Georgy winds up lost in the dark of night in the middle of nowhere and his troubles are only just beginning.

My Joy unfolds in a maze-like succession of stories that can shoot off in completely different directions or occasionally fold back on themselves to reveal unexpected connections. There are recurring motifs and locations with the old man and the vicious policemen both re-appear in a film that depicts Russia as a lawless frontier where everyone is fair game, corruption is rife and integrity is a luxury that nobody can afford.
Individual sequences within My Joy are gripping. The old man's tale of what happened to him on his way home from war is almost a perfect short story in the way it is it intrigues, astonishes and delivers a haunting punchline. The closing sequence back at the police roadblock grows increasingly tense and threatening, while other scenes are much less coherent or obviously. Ultimately, is a film that shines intermittently but is likely to leave the viewer more perplexed than satisfied.

Production Companies: MA.JA.DE. Fiction, Sota Cinema Group, Lemming Film, ZDF/Arte
International sales: Fortissimo Films, www.fortissimofilms.com
Producers: Heino Deckert, Oleg Kokhan
Cinematography: Oleg Mutu
Editor: Danielius Kokanauskis
Main cast: Viktor Nemets, Vlad Ivanov, Maria Varsami, Vladimir Golovin, Olga Shuvalova