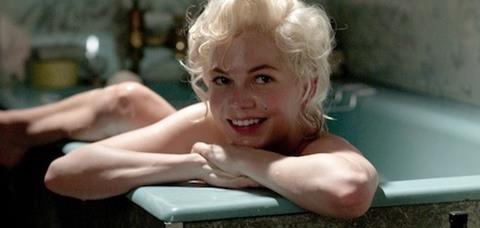 "American acting royalty meets British acting royalty." This glib comment by Jacobs (Toby Jones), a publicist for Marilyn Monroe (Michelle Williams) who has arrived for the London shoot of the 1956 The Prince And The Showgirl (then called The Sleeping Prince), could just as well describe this film version of the memoirs of Colin Clarke (Eddie Redmayne) about the time the fish-out-of-water icon took him, a young privileged man who was merely a third assistant director on the famously troubled set, into her confidence and her bedroom.
Williams is a sure bet for Academy recognition.
The public in English-speaking territories should take to the subject and the film itself, a crowd pleaser in spite of it's resemblance to a British television movie with a great cast that masks its thinness. (Made at London's Pinewood, almost every shot seems like a spare studio interior; the fog machines don't alter the feeling. The few exteriors are mostly establishing shots of grand estates like Windsor Castle and Clarke's childhood home, Saltwood Castle, as well as an extended sequence in a park on a lake.)
Given Monroe's legendary status, sales should be brisk in most parts of the world, even if the cleverly written one-liners and bitchy monologues will lose a lot in translation. Williams is a sure bet for Academy recognition. My Week With Marilyn had its world premiere at the New York Film Festival October 9.
Williams isn't considered royalty in the U.S. film scene, but she's probably on her way up there. Her casting as Monroe (a role that was supposedly going to Scarlet Johansson) certainly points to a rise in the Hollywood hierarchy. Audiences will come to see her play the actress then considered "the most famous woman in the world." Most of the time, especially in her own solo renditions of "When Love Goes Wrong (Nothing Goes Right)" and "That Old Black Magic" (the two songs bookend the film), with nothing and no one around her, she gets it right, while at other times, especially in scenes of the film within the film, she wanders off the mark.
Working against her are fabulous interpretations by the British royals: the older generation of Judi Dench as the empathetic Dame Sybil Thorndike, Derek Jacobi as Clarke's uncle and the librarian of Windsor Castle, Sir Owen Morshead, and Kenneth Branagh as the frustrated director and male star of The Prince and the Showgirl, Laurence Olivier (a role once assigned to Ralph Fiennes); and a newer generation of major talents, including Dominic Cooper as Monroe associate Milton Greene, Emma Watson as Clarke's girlfriend Lucy, and especially Redmayne. His Clarke is a perfect blend of innocence and surfacing sexual energy. In fact, his warmth and excitability pull you into the film more than Williams's Monroe.
We buy Branagh as Olivier even though he looks nothing like him, but because he is so adept at conveying the arrogance and wicked humour of the great actor. Dench exudes such warmth and delivers her snappy lines so brilliantly that she is a tough act to follow, much less go up against. Most viewers will be scouring Williams's performance for what she gets right and what she gets wrong, and having the finest thespians in Britain opposite her only highlights the slight defects. Unfortunately, much of her dialogue in Adrian Hodges's screenplay make her look stupid.
In the film, Clarke, son of Sir Kenneth, wants to make his own way in the world, specifically in the movie business. He manages to get a nothing job on the set of Olivier's production, performing menial tasks. He beams with such goodness that several stars, such as Julia Ormond's Vivien Leigh, fearful of potential infidelity, ask him to spy for them. Through a set of strange circumstances, Monroe begins to lean on the fellow, who is, like most men in her heyday, in love with her, despite warnings from all of the males who know her and Lucy's expressed suspicions. He escorts her around town and the countryside, and offers unconditional support, which is lacking in many of the others whose patience threshold has been breached.
Her entourage is upset by the presence of this interloper, especially Cooper's Greene and Zoe Wanamaker's uber-Jewish Method acting coach Paula Strasberg ("Open the door, bubbeleh!"). Monroe, however, is insistent. Given that she is normally two hours late on the set and either doped up or hung over, they and Olivier begin to appreciate his help in getting Monroe into working mode.
Her new husband, Arthur Miller (Dougray Scott), has come to the set and gone, so she is alone, and it is a maxim among her staff that she can not be alone. Clarke gives her the attention she needs, and she is expert in taking a gullible man for a ride when it serves her needs. This is the crux of the drama here, and its relative isolation from the actions and dialogue of all the others grants it a potency lacking when the screen is full of super-talented British thespians.
Some fine standards dot the soundtrack, but a few, including Dean Martin's version of "Memories Are Made of This" and Nat King Cole's splendid rendition of "Autumn Leaves," play at the most obvious moments; the redundancy is facile.
Production companies: Trademark Films, BBC Films, The Weinstein Company, Lipsynch Productions
International sales: The Weinstein Company, www.weinsteinco.com
Producers: David Parfitt, Harvey Weinstein
Executive producers: Jamie Laurenson, Simon Curtis, Ivan Mactaggart, Christine Langan, Bob Weinstein, Kelly Carmichael
Screenplay: Adrian Hodges
Cinematography: Ben Smithard
Production designer: Donal Woods
Editor: Adam Recht
Music: Conrad Pope
Website: www.myweekwithmarilynmovie.com
Main cast: Michelle Williams, Eddie Redmayne, Kenneth Branagh, Julia Ormond, Dougray Scott, Dame Judi Dench, Dominic Cooper, Emma Watson, Zoe Wanamaker, Toby Jones, Derek Jacobi