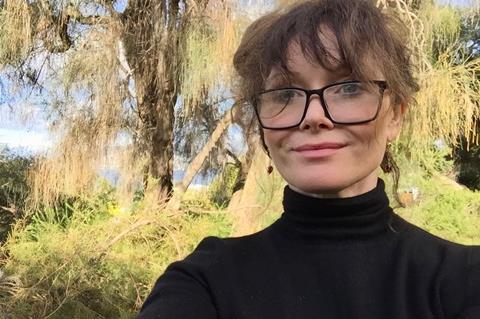 While she's been acting on screen for nearly 20 years, Essie Davis came to international attention and acclaim in Jennifer Kent's 2014 dramatic horror The Babadook.
The Tasmania-born actress's recent roles include TV series Game Of Thrones, Miss Fisher's Murder Mysteries, The White Princess and Lamb Of God. Recent big-screen appearances include Babyteeth, which played in Venice competition last year, Miss Fisher & The Crypt Of Tears, a big-screen outing for her 1920s detective Phryne Fisher from the Miss Fisher series, and True History Of The Kelly Gang, in which Davis portrays Kelly gang matriarch Ellen opposite George MacKay as Ned.
The latter outlaw drama, which was directed by Davis's filmmaker husband Justin Kurzel, is available on digital download from April 24. Davis is currently in lockdown in Tasmania with Kurzel and their two daughters.
How has life under lockdown been so far?
Both profoundly productive and yet peculiar, frightening and tense. We travel for work a lot and it's rare to find ourselves at home together for any length of time. It's fortunate that we all happened to be home in Tasmania when the world was closing down. After so many gypsy years, it's great to have the opportunity to have a massive spring (in autumn) clean and clear out decades worth of gathering and dumping in the family home.
We are super fortunate to be locked down on Tasmania but still feeling the loss of friends and colleagues both across the planet and within this state who have passed because of this horrific virus.
How has it been running your career remotely from home?
After working so productively over the past year and a half, I'm finding it hard to be career focused when there's so much wrangling and catching up to do at home. A beautiful film I shot a few months ago in New Zealand, The Justice Of Bunny King, was just completing post-production when travel lockdown began. I managed to find a recording studio in Tasmania to complete my ADR with the director locked down in New Zealand and my dialect coach in Melbourne. I wonder what will become of this film without any festivals running this year.
Do you wish audiences could watch True History Of The Kelly Gang in cinemas, or are you fine with an online premiere?
It's deeply saddening that films made for the big screen have to go straight to digital download. The landscapes and epic beauty and devastation in True History Of The Kelly Gang alone is best viewed on a big screen with surround sound. However, at this time I also know people are crying out for quality entertainment and escapism and I'm thrilled that people can watch it in their own homes. I remember being stuck at an airport for 10 hours and watching Roma on my iPad. I still saw all its beauty and it didn't stop me from going to see it at the cinema.
What was the most challenging part of making True History Of The Kelly Gang?
There were so many challenges and Justin certainly raises the bar of expectation for everyone involved. He makes you challenge yourself. He gives each actor a manifesto of homework: things to watch, read, listen to, wear, taste, try, shapes to change into, jobs to do, people to befriend or emulate. We were writing music, dancing, screaming, brawling and in a landscape that was in flood, gales, snow. I was trying to keep my boys Ned and Dan – George MacKay and Earl Cave – apart in a fight on our third night of filming and ended up in a very funny three-person forward roll like something out of a looney tunes cartoon. I ended up with a cracked rib. But one thing I know we all felt, cast and crew, was a profound privilege to be working together with Justin on something so unique.
How are you maintaining a daily routine?
There is no routine! I aim for some kind of achievement every day and hopefully some adventure, fresh air and exercise. Some playful family together time in amongst the jobs to get done.
Which systems are you using to talk to keep in touch with your agent, colleagues, friends?
Telephone, email, text, FaceTime, Skype. I helped [Babyteeth director] Shannon Murphy teach a masterclass for film directing students on Zoom recently. I'd never heard of it, it was great!
Which of your recent characters would cope best with this current, unprecedented situation? Presumably not Amelia in The Babadook.
Well, she does survive and have a new empathetic understanding of living with her own monsters. I think more and more people will recognise themselves in The Babadook currently and maybe fight their own monsters.
What have you been watching, reading or listening to that's inspired you during this time?
I'm immersed in the brilliant Philip Pullman at the moment. I cannot get enough, I love him – both reading aloud to my kids and listening to audio books beautifully read by Michael Sheen, Anton Lesser or Philip himself. Miriam Margolyes' outstanding reading of Bleak House made me laugh and cry and relisten immediately. And Stephen Fry is reading Sherlock Holmes to me during my insomnia. I also have a pile of scripts and books at my bedside waiting for a moment I can have to myself.
If you have children, how are you managing keeping them entertained/educated while you work?
Our girls always take priority so trying to get any work done is crazy. Justin manages to work online on multiple projects and tag-team with me when I have to be connected but our kids have never really loved being on computers or devices so online school has been a massive challenge and now it's holidays. We have a big garden full of fruit trees that need tending to so there's a plethora of cooking and baking and weeding going on. And a dolls-clothes sewing frenzy. Plus, board games and of course movie watching!
What is the first thing you're intending to do when lockdown is over?
Tasmania has shut down all national parks so going bush walking or coast walking has become almost impossible. I think as a family that is what we are missing the most. Then hopefully we can have a huge dinner party and head to the cinema to indulge ourselves. I'd love to go see some live music, to the theatre, to some comedy! The arts community in Australia is really suffering. I hope our festivals survive and we get to enjoy them once again. We have to patiently get on with creating.