Dir/scr: Ivan Sen. Australia. 2013. 121mins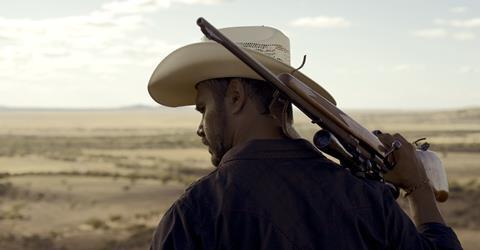 With his new feature, multi-skilled, indigenous filmmaker Ivan Sen moves from low budget arthouse realism with amateur leads (Beneath Clouds, Toomelah) to a low-budget genre thriller with star Aussie actors at every turn. It's a bold, unexpected advance: especially as his chosen genre is the Western — cowboys, hats, boots, guns and all.
Sen has attracted a roster of established acting talent to play minor supporting roles.
Set in remote Queensland, with flat, featureless country stretching to far, often magnificently sunset-red horizons, director/writer Sen's dark tale of drugs and murders is wonderfully captured by his own camerawork. He's also editor and composer. It's a considerable achievement, not least for the quality acting he has harnessed, though the pace is often too measured for modern multiplex tastes.
Following an enthusiastically received opening night showing at the Sydney Film Festival, Mystery Road will undoubtedly do well on the international festival circuit; and in a deal recently negotiated at Cannes, the US distribution rights have been bought by Well Go USA Entertainment who plan a 2014 release. A limited Australian arthouse release begins August 15.
Returning to his roots in a small country town "in the middle of nowhere", Detective Jay Swan (Aaron Pederson), a dedicated aboriginal cop, soon becomes enmeshed in the ramifications of the brutal murder of a teenaged indigenous girl at Massacre Creek. He's treated as an outsider by the mainly white local police force and also by the hostile locals who see him as a traitor, "an abo cop". "Are you a real copper or one of those blacktrackers who turns on his own type?" is a typical in-your-face question.
Working increasingly on his own, Jay moves deeper into a mystery that soon encompasses his own abandoned family — a bitter ex-wife and an aimless daughter who moves in the same crowd as the murdered girl. He is constantly stalled by his Sergeant (Tony Barry) and threatening Drug Squad officer, Johnno (Hugo Weaving). As the cover-up slowly cracks, the movie heads for the nearby hills for a thrilling shoot-out of which John Wayne would have been proud.
Sen has attracted a roster of established acting talent to play minor supporting roles, including Jack Thompson, impressive as an ageing farmer with encroaching dementia and Ryan Kwanten (six seasons of True Blood) as a sharp-shooting bad boy, while Tony Barry gives creepy authority to Jay's racist boss.
Even though Hugo Weaving is terrific as the dangerous, secret-keeping cop, Pederson retains the central focus as Jay — troubled, unhappy, determined to do the right thing. It's a performance in the tight-jawed, unhurried style of the great Western heroes.
What stops Mystery Road from wider release is its deliberately steady pace. Time passes slowly in this backblocks town and Sen, at two hours length, takes his time to introduce a host of characters, their dilapidated housing, their bleak surroundings. But the tension certainly grows and an explosive climax brings considerable thrills.
Production company: Mystery Road Films
Aust/NZ distribution: Dark Matters
International sales: Arclight Films, www.arclightfilms.com
Producer: David Jowsey
Cinematography: Ivan Sen
Editor: Ivan Sen
Production designer: Matt Putland
Music: Ivan Sen
Website: www.mysteryroadmovie.com
Main cast: Aaron Pedersen, Hugo Weaving, Tony Barry, Tasma Walton, Jack Thompson, Ryan Kwanten, David Field, Jack Charles