Dir/scr: Debbie Isitt. UK. 2012. 105mins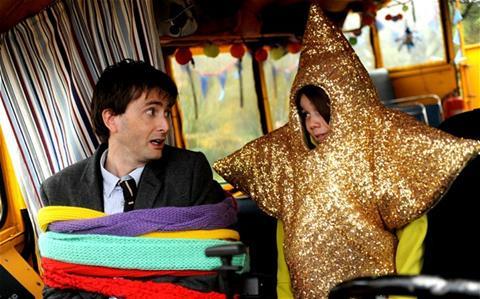 Comedy sequel Nativity 2: Danger In The Manger! may well be short on laughs or entertainment for grown-ups but it well-and-truly hits the funny bone for its target audience…those under 10 years-old and who love their humour broad and simple. The film took a hefty $2.5million over its UK opening weekend and should have a strong life in the run-up to Christmas, though its ability to breakout internationally will be strictly limited.
It strikes a chord with young ones.
Writer/director Debbie Isitt has brought together many of the cast from the original school-set film Nativity!, and added to the pot Scottish actor David Tennant (who played Doctor Who on television for several seasons), who has a genial comedy ease and responds well to her semi-improv filmmaking style.
Back from the original film are Jason Watkins, who plays rival teacher Mr Shakespeare; Pam Ferris as headteacher Mrs Bevan, and the surprise hit package from the original Marc Wootton, who plays manic classroom assistant Mr Poppy. The original film was a surprise hit in 2009 when it took a remarkable $8.3 million.
Tennant stars as David Peterson, a new teacher at St Bernadette's primary school, taking over the class after a series of substitute teachers have been driven away due to children's antics and the over-enthusiastic behaviour of Mr Poppy. The kids – an engagingly quirky bunch – all adore Mr Poppy, who has committed to take them to take part in a televised schools' 'A Song For Christmas' choir competition taking place in Wales.
There are plenty of simplistic gags as the kids wend their way to Wales – in fact the journey takes way too long when the film should be an awful lot tighter in this central section – but at least they gather a donkey and a baby to take along to the competition itself.
Add to the always over-laden pot the fact that Petersen's stuck-up twin brother Roderick (also played by Tennant) is in charge of a posh rival class of singing schoolchildren and the fact that Petersen's wife is pregnant, and you have a sweet-natured series of performance sessions that allow the kids to show-off to good effect and for the spirit of Christmas to be reinforced.
It is a simple and rather obvious film that also happens to run 10 minutes or so too long, but it strikes a chord with young ones and with a young fan base in place from the original film it should be a success (in the UK at least) with a strong home entertainment life to follow.
Production companies: Mirrorball Films, EntertainmentOne, Creative England, Premiere Picture, Media Pro Six
International sales: Moviehouse Entertainment, www.moviehouseent.com
Producer: Nick Jones
Executive producers: Laurence Brown, Jason Garrett, Alex Hamilton, Dan Lawson, Gary Phillips, David Rogers, Mark Vennis
Cinematography: Sean Van Hales
Editor: Nicky Ager
Production designer: Chris Roope
Music: Nicky Ager, Debbie Isitt
Main cast: David Tennant, Marc Wootton, Jason Watkins, Joanna Page, Ian McNeice, Jessica Hynes, Pam Ferris, Rosie Cavaliero, Jake Rollins