Dir: Scott Waugh. US. 2014. 130mins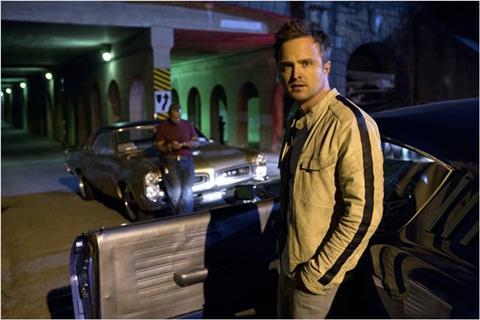 A little motivation goes a long way in Need For Speed, a technically polished but narratively bloated and muddled adaptation of the bestselling videogame racing series of the same name. Alternately slick and over-plotted, the movie tries to awkwardly thread a too-fine needle of dumb-fun revenge and square-jawed memorialisation. The tonally confused result runs out of gas before the finish line.
Poots, on the heels of a similarly fresh turn in That Awkward Moment, delivers a loose-limbed performance that augurs a continued upwards trajectory. She's quirky and slightly off-centre — just what a movie like this needs.
With more than 20 titles and many, many millions of copies sold, Need for Speed is the most successful videogame racing franchise of all time. Arriving as it does in theaters in between two other high-profile adapted "name" properties, 300: Rise of an Empire and Divergent (to say nothing of Muppets Most Wanted), there's reason to believe Need For Speed will vacuum up a solid $28-38 million opening weekend, comprised largely of the same audience that reliably turns out for the Fast and the Furious films — even if this movie marks an informal test as the first racing film after Paul Walker's death in an off-camera car accident. However, its domestic window seems small, and international returns will likely dictate whether Need For Speed has the sort of franchise legs for which its distributors surely hope.
The story centers on Tobey Marshall (Aaron Paul), a small town mechanic who street-races muscle cars on the side with a tight-knit group of friends. Needing cash, Tobey takes a job building a souped-up custom car for Dino Brewster (Dominic Cooper), an arrogant professional driver who also happens to be dating his ex-girlfriend, Anita (Dakota Johnson). When a racing tragedy befalls a pal, Tobey ends up pulling jail time, framed for a crime he didn't commit.
When he gets out of prison, Tobey reluctantly partners with car broker Julia Maddon (Imogen Poots), hooks up with his best friends — Joe (Ramon Rodriguez), Finn (Rami Malek) and Benny (Scott Mescudi) — and sets his sights on revenge against Dino. The venue is a high-stakes underground race whose benefactor, Monarch (Michael Keaton), chooses the participants.
Need For Speed, which in addition to checklisted components from some of its more popular videogame iterations, summons forth a pastiche of elements nipped from the Fast And The Furious series, Smokey And The Bandit, Cannonball Run and Gone In 60 Seconds, is a prime example of a movie where less would have been more. In its needy and needless reach for gravitas, and occasional ham-fisted attempts to ground its conceit in the real world, the movie irreparably drains a lot of momentum from what could be an energising, fun, diversionary romp.
It seems perverse to criticise a piece of genre entertainment for over-thinking its narrative, but at over two hours, Need For Speed carries the weight of more story than it needs. And, even ignoring myriad sigh-inducing incongruities (notably, after two years, Dino doesn't destroy evidence he owns that might implicate him in a crime), the screenplay, by George Gatins, simply doesn't successfully integrate a good deal of senseless destruction and Tobey's fuzzily defined quest for vengeance-through-racing with banter between Tobey and Julia and other more comedic-minded bits (including a sequence where Finn strips off his clothes and leaves a workplace).
Helmer Scott Waugh, who previously co-directed 2012's Act Of Valor, a war film which used active-duty American military personnel, knows his way around helicopter and crane shots (aerial unit directors of photography Michael Kelem and David Nowell also deserve a tip of the hat), which helps give the movie isolated pockets of cathartic connection. Waugh (who also takes a co-editing credit) understands the importance of spatial relationships in action filmmaking.
Likewise, cinematographer Shane Hurlbut's visual palette is an undeniable selling point. The soft, warm, yellow streetlights of its opening reel give the movie a rooted, nostalgic vibe that stands in contrast to its other segments, as Tobey makes his way west. The film also makes superlative use of location shooting, inclusive of Georgia, Michigan and the Northern California shoreline.
Stepping out into feature film leading roles after the conclusion of his award-winning run on TV's Breaking Bad, Paul acquits himself as much as the screenplay will allow. The film grants him a couple small moments of exasperation, posed angst and smoldering cool, but this is no great test of range or even charisma. He and the other supporting actors mostly just invest in the movie's thick, backslapping fraternal streak.
Poots, on the heels of a similarly fresh turn in That Awkward Moment, delivers a loose-limbed performance that augurs a continued upwards trajectory. She's quirky and slightly off-centre — just what a movie like this needs.
With all his scenes shot in discrete fashion, Keaton serves as a sort of energy-drink emcee/Greek chorus for the film. He delivers much liveliness, but is poorly directed, his exhortations awkwardly interwoven throughout.
Its lighter material connects best, and there's the core of an enjoyable movie somewhere in here, but Need for Speed seems too hell-bent on trying to blend together the serious and exaggerated to deliver a convincing suspension of disbelief of one tone or the other.
Production companies: DreamWorks Pictures, Reliance Entertainment, Touchstone Pictures, Bandito Brothers, Electronic Arts
Domestic distribution: Walt Disney Studios
Producers: Patrick O'Brien, John Gatins, Mark Sourian
Executive producers: Stuart Besser, Scott Waugh, Max Leitman, Frank Gibeau, Patrick Soderlund, Tim Moore
Screenplay: George Gatins, based on a story by George Gatins & John Gatins, based on the videogame series created by Electronic Arts
Cinematography: Shane Hurlbut
Production designer: Jon Hutman
Editors: Paul Rubell, Scott Waugh
Music: Nathan Furst
Website: www.TheNeedForSpeedMovie.com