Film adaptation based on book by John Wukovits.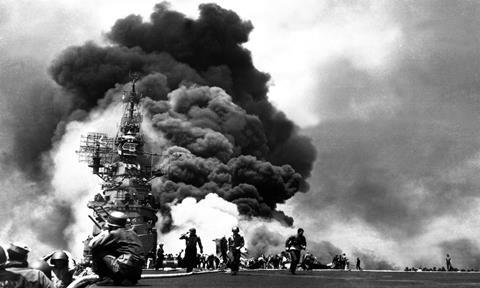 Gianni Nunnari's Hollywood Gang have announced they are developing an adaptation of John Wukovits' Hell From The Heavens: The Epic Story Of The USS Laffey And World War II's Greatest Kamikaze Attack.
Rosalind Ross will write the adaptation under the working title of Kamikaze.
On April 16, 1945, the crewmen of the destroyer USS Laffey withstood an unrelenting kamikaze attack. After 80 minutes, 22 continuous air attacks and four direct bomb hits, six Japanese fighter planes crashed into the ship, setting the destroyer ablaze. Thirty-two men died and 71 were wounded that day.
The ship's captain Frederick Julian Becton refused to give up and he and his crew fought on and ultimately won the day, earning the Laffey the name 'The Ship That Would Not Die.'
Nunnari will produce alongside Hollywood Gang's Shannon Gaulding.
Nunnari, best known for producing the thrillers Se7en, The Departed, and 300, is currently developing Robotech for Columbia Pictures as well as the next installment of the 300 franchise at Warner Bros. Also at Warner Bros is Victory with Gavin O'Connor directing.
Nunnari most recently produced The Domestics for MGM and the Crackle-Amazon television series Start Up, now heading for Season 3.
Nunnari said: "We must tell the story of the brave men of the Laffey. The kamikaze planes, the bombs – they kept coming and coming but these men, with courage and sacrifice – they kept their ship afloat. And for me, Rosalind Ross was the obvious choice for the job; she has the kind of ferocious and character-driven approach that I love."