Pair join star and executive producer Benedict Cumberbatch. The Crown's Anna Madeley joins cast.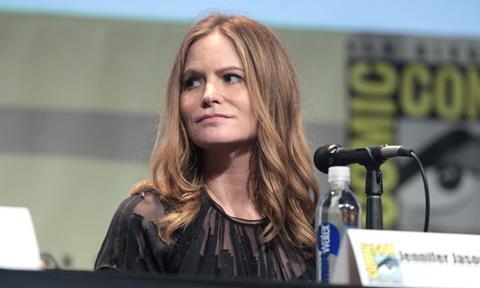 Jennifer Jason Leigh, Hugo Weaving and The Crown's Anna Madeley have signed on for the Benedict Cumberbatch-led mini-series.
The Showtime and Sky Atlantic co-production is based on the Patrick Melrose series of semi-autobiographical novels written by Edward St. Aubyn. Patrick Melrose skewers the upper class as it tracks the protagonist's harrowing odyssey from a deeply traumatic childhood through adult substance abuse to recovery.
Each of the five episodes is devoted to one of the five novels. The series will encompass the saga of Patrick Melrose's life, from his abusive youth at the hands of his father, played by Weaving, and mother, played by Leigh, to his life as an outrageous playboy and struggles to defy the pain of his past.
The limited series will take place in wide-ranging locales and time periods such as the south of France in the 1960s, New York in the 1980s, and Britain in the early 2000s.
David Nicholls is writing the TV adaptation, while German director Edward Berger will direct all five episodes. Shooting will begin in London and the south of France in August.
Leigh received Golden Globe nominations for her work in The Hateful Eight and Mrs. Parker And The Vicious Circle. The actress appears in the limited series Twin Peaks, currently airing on Showtime, and previously starred in a recurring role on the Showtime series Weeds.
Weaving is best known as the antagonist Agent Smith in The Matrix trilogy, and as Elrond in The Lord Of The Rings trilogy. His film credits include Hacksaw Ridge, The Hobbit, and Captain America: The First Avenger.
Madeley has performed with the Royal Shakespeare Company and most recently appeared in Netflix series The Crown.
Michael Jackson and Moneyball producer Rachael Horovitz will serve as executive producers alongside Cumberbatch and SunnyMarch's Adam Ackland. Patrick Melrose will be the first production for Two Cities Television, the drama label recently formed by Jackson, the former Channel Four and IAC executive.