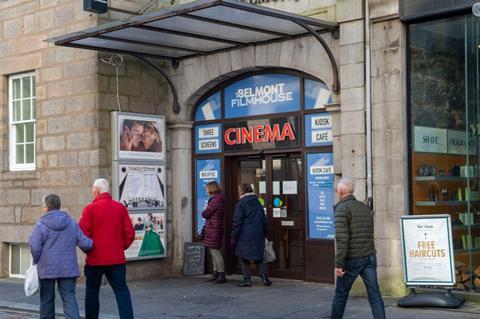 A preferred operator for Aberdeen's shut Belmont Cinema has been revealed in a council committee meeting today (September 13), with plans in motion for the cinema to re-open next summer.
Belmont Filmhouse – which was the Scottish city's only independent cinema until its closure last year – had been closed since the parent charity that operated the cinema, the Centre for the Moving Image (CMI), went into administration in October. (CMI also operated the Edinburgh International Film Festival and the Edinburgh Filmhouse). Aberdeen City Council owns the building. In May, a public interest notice was published inviting prospective operators to submit proposals for operation of the Belmont Cinema.
Belmont Community Cinema has set out plans to reopen the building as an independent, not-for-profit cinema, operated and programmed from Aberdeen which focuses on four key areas - cultural film programming, education and filmmaking, community, and customer experience.
Its board includes Dallas King, the former manager of the Belmont Picturehouse (Picturehouse held the Belmont cinema lease from 2000 to 2013) and Belmont Filmhouse; Timothy Baker, a former independent filmmaker who is a professor in Scottish and contemporary literature at the University of Aberdeen; community activist Jacob Campbell; and charity chief executive Sophy Green.
Aberdeen City Council's Finance and Resources committee today approved a report which recommended Belmont Community Cinema as the preferred operator for the venue, which would become a space for all arts, including as a cultural cinema and a licenced restaurant in the basement bar with an improved hospitality offer and the food offer central to the business.
The preferred operator is to be given an exclusivity period agreement to undertake fundraising and finalise their redevelopment plans to set out the groundwork for a long-term operators lease.
Belmont Community Cinema was born out of community-led Save the Belmont Cinema campaign, which rose to prominence soon after the news broke of the cinema's closure.
Its ambitious plans include establishing an Aberdeen Film Festival. A strategic partnership has formed with Aberdeen-based cultural charity Station House Media Unit (Shmu) to build on the cinema's previous education offer, school's programmes, community outreach, and establish the venue as a filmmaking hub.
According to the Belmont Community Cinema's business plan, the target is to reopen in July or August of 2024, with a commencement of refurbishment work from April 2024.