Briefs from the Abu Dhabi Media Summit 2014.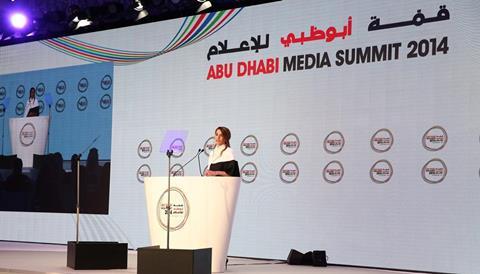 The fifth edition of the Abu Dhabi Media Summit kicked off Tuesday (Nov 18). This year's theme, 'Driving and Sustaining Future Media in MENA and Beyond,' features more than 600 participants, 70 speakers and 14 panel discussions led by regional and international leaders of the media industry.
The Summit, opened by Queen Rania Al Abdullah, places an emphasis on local participation and community engagement by offering workshops and opening its doors to the public for the first time on days two and three.
Featured speakers include Mark Thompson, president and chief executive officer, The New York Times Company; Gerhard Zeiler, president, Turner Broadcasting System International; Robert A. Kotick, president and CEO, Activision Blizzard; JB Perrette, president, Discovery Networks International; Princess Ameera Al-Taweel, founder and CEO, Time Entertainment.
Queen Rania's opening speech
Queen Rania Al Abdullah opened the 2014 ADMS with a calling to the media, speaking to more than 500 international media leaders about the Arab identity and 21st century media opportunities.
"We either develop our region, or we let others dismantle it. Find solutions to the challenges, or watch the challenges avalanche. Harness the tools to drive the Arab world forward in the 21st century, or let others use those tools to drag us back to the dark ages," said Queen Rania.
"The good news is that new industries are emerging. The digital landscape is evolving and internet connectivity and mobile technologies are creating new horizons for entrepreneurs. Arab internet users are growing at around 20% annually."
Local content to spur regional growth
Untapped demand for local, Arabic content will spur rapid regional media growth over the next five years, according to a new study unveiled at the Abu Dhabi Media Summit.
The study also found that accelerated adoption of mobile technology, evolutions in paid and digital media, and a new wave of unique youth-produced content will be key factors in driving media growth in the region.
Gaming in the Middle East is growing faster than the global average with expectations of tripling in size in the coming years – from $1.6bn in 2014 to $4.4bn in 2022. The study expects the total gaming segment size to mirror the size of the TV market in seven to eight years.
The audio-visual content market in MENA is seeing many industry-changing trends, including Pay TV's forecast to grow 10.3% per year, compared to ad-based TV's 7.8%, though Satellite TV dominates the sector, accounting for more than 95% of TV distribution.
The MENA e-commerce market was worth $2.3bn in 2014 and is expected to grow 13% annually to 2019. Saudi Arabia and the UAE are the dominant markets, and will continue to make up almost 40% of the total market to 2020.
Mobile capabilities are increasingly important – mobile commerce is expected to reach 20% of e-commerce revenue in 2015, up from 7% in 2011.
Education in digital media and on-the-job training are critical components of growing the talent base. With training in technologies such as movie production, 3D effects, gaming development, companies can vastly increase the productivity of small-scale media producers.
Digital future
Video-enabled platforms were discussed during a panel discussion at the 2014 Abu Dhabi Media Summit, with panellists agreeing that content providers need to explore new pathways to growth while exploring local talent in emerging markets.
The second panel discussed social media's role surrounding the Arab Spring. "Social media is both a blessing and a curse – while extremists are the first to condemn new technology as the 'tools of Satan', they end up using it better than everyone else," said Faisal Abbas, editor in chief of Al Arabiya News.
Du's CEO Osman Sultan told ADMS guests that the social media value chain is dictated by the end users, not the vertical hierarchies of old, claiming that internet users are the focus, especially in regards to YouTube and how it's governed by the users.
Print vs new media
Newspapers can still compete with new media, according to New York Times Company CEO Mark Thompson.
"Traditional newspapers are still popular - the challenge is to make them more cost-effective and able to raise new sources of revenue…the fact remains that you can only expect customers to pay if the content is top quality" said Mark Thompson, president and CEO of the New York Times Company
Panel: From Hollywood to Bollywood, is Arabwood next? Emirati filmmaker Ali Mostifa said more investment is needed to grow the film industry in the Middle East, citing support given to filmmakers in France and Italy as evidence that support for local talent could help grow native film industries.
Panel: The Need for Speed in MENA – Mobile Operators Talk Next Gen Systems and Smartphones. With smartphones passing the 110 million mark in 2013 and MENA being the world's second largest mobile market, chief digital services officer Khalifa Al Shamsi said "if we create a lot of infrastructure, there will be positive outcomes for the providers and consumers, with the commensurate economic benefits."
twofour54, Etisalat Group and iMENA Group join forces
Himmah, a joint partnership between iMENA Group, Etisalat Group and twofour54, was officially launched this month with aims to help the region's online industry capitalise on the high growth potential yet under-served market of MENA.
By leveraging the group's collective know-how, relationships and resources, Himmah plans to develop industry's best practice, encourage government and private sector action, and support opportunities for entrepreneurs and start-ups.
According to a recent study on emerging markets and propriety, MENA will likely produce at least $10bn of publicly listed digital companies if it continues growing at this rate.
Himmah will invite other entities to join as charter members, providing additional expertise or adding value to the group's mission.
Flat6Labs Accelerator launches
In partnership with twofour54, Flat6Labs will launch the first start-up accelerator in Abu Dhabi at this year's Abu Dhabi Media Summit.
The accelerator aims to launch digital businesses in Abu Dhabi and help to scale them regionally and globally, designed to support a generation of entrepreneurs from the UAE and abroad.
Since 2011, Flat6Labs has directly led to the creation of 57 companies across Egypt and Saudi Arabia, helping to create more than 400 jobs in both countries.
The Abu Dhabi Media Summit will also host two design thinking workshops entitled "Monetizing Digital Content" featuring and "Scaling Online Education."
Middle East "most connected region"
Nicola Mendelsohn, Facebook's vp for EMEA, has predicted that once the 4.5 billion people currently cut off from the global knowledge economy are properly connected, the developing world will be the engine of economic growth.
Mendelsohn cited polls that show more than 70% of end users wish to be connected to the internet 24 hours a day, commenting that tomorrow's mobile technology must be increasingly people-centred to meet the demand for uninterrupted access.
Panel: Wired Women: An inspiring group of "Wired Women" discussed how connectivity had changed their lives and has the potential to empower women around the world.
The panel agreed that the internet and other new media had raised awareness and changed lives. Princess Ameera Al Taweel, founder and CEO, Time Entertainment, said: "Social media has provided a platform for the young to unlock their potential."
Gaming boom
Day two of the Abu Dhabi Media Summit 2014 (Nov 18-20) honed in on the gaming sector of the media industry, considering the future of an older medium, television.
Digital Disruptor: The Business of Gaming. The average age of gamers is 31, with females making up 35%. Gaming, one of the most rapidly growing sectors in the region, will be valued at $82 billion by 2016 according to managing director of Ubisoft Abu Dhabi, Yannick Theler.
Panel: The Media in MENA: Localizing and Monetizing Content. The need to create local content is undeniable according to this panel. Panellists agreed that producing content that talks to local needs, values, and cultures is essential to meet consumer demand, citing 32 countries re-creating Sesame Street to cater their local audience as an example.
Distribution channels, challenges
The dominance of US studios is being eroded by emerging foreign markets such as China and India, claims IMAX Corporation CEO Richard Gelfond. The MENA region, specifically, could offer a lot to international filmmakers a business-supportive environment and by way of infrastructure.
Despite predictions about television's decline, the global industry is seeing revenues growing by up to 5% every year, supporting director of MENA and South Asia at Kanter Media Mansoor Khan's thought that "television remains the 'super-medium' around which all others revolve." Panelists discussed how TV networks are adapting to changes in the media landscape to provide content through a new range of platforms.
Sam Barnett, CEO of MBC Group, warned that 10% of media channels in the Middle East provide pirated content by downloading recently released material and broadcasting it through satellite TV channels during Sky News Arabia's session on digital piracy.
Greg Sweeting, chief legal officer of the Media Zone Authority, Abu Dhabi – twofour54, added: "Although the UAE authorities have shown leadership in tackling the piracy problem, stopping media pirates will always be a game of cat and mouse as technology advances."
Start-ups support needed
H.E. Mohamed Nasser Al Ghanim, director general, Telecommunications Regulatory Authority, identified investment and business growth strategies for the Middle East in his keynote speech at the 2014 ADMS. The speech stressed investment in people as a main driver of innovation, and cited twofour54 as a successful local talent incubator for all forms of media.
The final day of the Summit covered financing solutions for an industry increasingly hungry for investments.
Panellists discussed a major weakness in the MENA region, the lack of sustained financial support to bolster initial successful investments in start-ups. Twofour54's partnership with Etisalat and iMENA demonstrated how public-private partnerships could enable the development of "clusters" of local talent that could act as a focal point for new business.
Calls for a fully-connected world
With 7 billion connected individuals forecast by 2020, the media and e-commerce industry may soon be managers of the world's largest and most relevant "mall," says Noura Al Kaabi, CEO of twofour54.
"I believe the Abu Dhabi Media Summit is a clear example of how we are all helping to build a positive profile of the Arab World. The future is bright and within the grasp of young people in the Middle East and everywhere," said Al Kaabi.
Noura Al Kaabi encouraged all ADMS guests to play their part in driving and sustaining a future media in MENA and beyond, with the key challenges now being to reach out to those people not connected while growing and nurturing young people so that they can fully realise their potential.