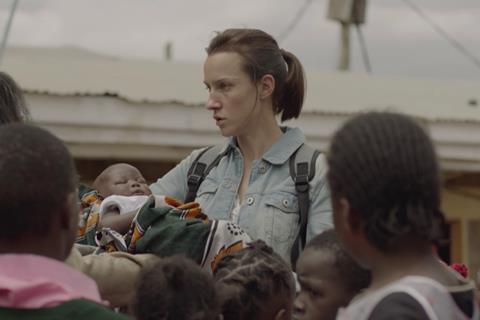 Zornitsa Sophia's Mother, the Bulgarian entry for the Oscars' best international feature film award, has been rejected by the Academy of Motion Picture Arts and Sciences.
The film was deemed ineligible because more than 50% of the film's dialogue is in English, according to the Academy, in violation of its entry requirements for the category.
The Academy wrote in a letter to Maria Bakalova, the breakout star of Borat Subsequent Moviefilm and president of the selection committee for the Bulgarian National Film Centre this year: "Based on [Mother's] one hour and 56-minute running time, there is approximately 27 minutes and five seconds of non-English dialogue (Bulgarian, Swahili, Maasai), compared to the 32 minutes and 31 seconds of English dialogue. Only 45.44% of the dialogue in the film is non-English."
Bulgaria has until October 3 to select a new entry.
Written by Sophia and Miglena Dimova and inspired by a true story, Mother follows a theatre director who, after struggling to conceive when she unexpectedly reaches menopause at 32, re-directs her energy towards a theatre programme for orphans in Bulgaria, and later, Kenya.
The film is produced by Sophia's MQ Pictures, and co-produced by Irena Markovich through Croatia's Focus Media, Marcel Lenz through Germany's Ostlicht Filmproduktion and Bulgaria's Nu Boyana.
Other titles disqualified by the Academy for having too much English dialogue include Deepa Mehta's Canadian entry Funny Boy in 2020, and Sudabeh Mortezai's Austrian entry Joy and Genevieve Nnaji's Nigerian submission Lionheart, both in 2019.