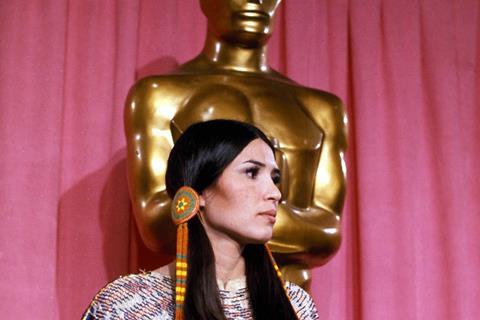 The Academy has published an apology presented to Sacheen Littlefeather in June, nearly 50 years after the Native American activist declined Marlon Brando's Oscar and delivered a speech which the Academy said resulted in professional and personal repercussions.
Littlefeather was a Screen Actors Guild member when she walked on stage in 1973 at the behest of her friend, rejected his lead actor Oscar for The Godfather, and talked about Native Americans stereotypes in the entertainment industry. The speech, a recording of which is enshrined in the Academy Museum in Los Angeles, baffled the audience who reacted with cheers and boos.
On Monday (August 15) the Academy published its apology signed by former Academy president David Rubin and announced "An Evening with Sacheen Littlefeather, a very special program of conversation, reflection, healing, and celebration with Sacheen Littlefeather (Apache/Yaqui/AZ)" on September 17.
Lifelong activist Littlefeather, 75, will take part in a conversation with producer and co-chair of the Academy's Indigenous Alliance Bird Runningwater (Cheyenne/Mescalero Apache/NM). She lives in northern California, has breast cancer that has metastasised to her lung, and seldom gives interviews.
"Regarding the Academy's apology to me, we Indians are very patient people – it's only been 50 years!" she said. "We need to keep our sense of humor about this at all times. It's our method of survival.
"I never thought I'd live to see the day for this program to take place, featuring such wonderful Native performers and [celebration moderator] Bird Runningwater, a television and film producer who also guided the Sundance Institute's commitment to Indigenous filmmakers for twenty years through the Institute's Labs and Sundance Film Festival. This is a dream come true. It is profoundly heartening to see how much has changed since I did not accept the Academy Award 50 years ago. I am so proud of each and every person who will appear on stage."
This spring Littlefeather spoke to Academy Museum director and president Jacqueline Stewart for the Academy Museum Podcast episode 'Marlon Brando Cannot Accept This Very Generous Award', which will be part of the Academy's Oral History Projects to be released next month.
Stewart said, "We are delighted and humbled that Sacheen has so generously chosen to engage with the museum and Academy to reflect upon her trying experience at the 1973 Academy Awards. Our thanks go out to Bird Runningwater and Heather Rae for helping us foster our cherished relationship with Sacheen. We hope our event on September 17 offers Sacheen and our audiences a moment of collective healing and a new path forward."
The September 17 event will include a land acknowledgement courtesy of Virginia Carmelo (Tongva/So. CA), a reading of the Academy's letter of apology, and Native American Indian performances. Academy CEO Bill Kramer, Stewart and current Academy president Janet Yang are among the speakers.
The Academy's apology appears below in full.
STATEMENT OF RECONCILIATION
June 18, 2022
Dear Sacheen Littlefeather,
I write to you today a letter that has been a long time coming on behalf of the Academy of Motion Picture Arts and Sciences, with humble acknowledgment of your experience at the 45th Academy Awards.
As you stood on the Oscars stage in 1973 to not accept the Oscar on behalf of Marlon Brando, in recognition of the misrepresentation and mistreatment of Native American people by the film industry, you made a powerful statement that continues to remind us of the necessity of respect and the importance of human dignity.
The abuse you endured because of this statement was unwarranted and unjustified. The emotional burden you have lived through and the cost to your own career in our industry are irreparable. For too long the courage you showed has been unacknowledged. For this, we offer both our deepest apologies and our sincere admiration.
We cannot realize the Academy's mission to "inspire imagination and connect the world through cinema" without a commitment to facilitating the broadest representation and inclusion reflective of our diverse global population.
Today, nearly 50 years later, and with the guidance of the Academy's Indigenous Alliance, we are firm in our commitment to ensuring indigenous voices—the original storytellers—are visible, respected contributors to the global film community. We are dedicated to fostering a more inclusive, respectful industry that leverages a balance of art and activism to be a driving force for progress.
We hope you receive this letter in the spirit of reconciliation and as recognition of your essential role in our journey as an organization. You are forever respectfully engrained in our history.
With warmest regards,
David Rubin
President, Academy of Motion Picture Arts and Sciences.