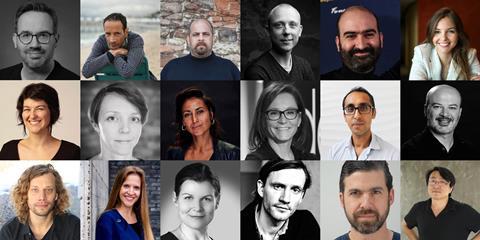 ACE producers has unveiled the 18 producers who have been selected to participate in 29th edition of its ACE Session training programme and join the ACE Network.
A total of 15 territories are represented in the selection, comprising Belgium, Czech Republic, Canada, Denmark, Finland, France, Germany, Luxembourg, the Netherlands, Slovenia, Spain, Sweden and the UK, as well as, for the first time, Georgia and Lithuania.
The participants will attend the programme, running across 2019 to 2020, with a feature project in development.
The fresh intake includes the UK's Kurban Kassam, who recently produced Sally Potter's The Party. He will participate with The Parcel, a new feature by Indian filmmaker Umesh Kulkarni, that he is developing under his Raucous Pictures banner.
Other participants include Daniel Baur at Germany's K5 Media Group and Clément Duboin at French Good Fortune Films.
Baur will bring Robert Schwentke's Bad Company - an adaptation of Steve Wick's explosive Hollywood exposé Bad Company: Drugs, Hollywood and the Cotton Club Murder, while Duboin will attend with Grand Ciel, the latest feature project by French-Japanese director Akihiro Hata.
The selection committee was made up of members of the ACE board, ACE consultants, president Antoine Simkine and director and head of studies Jacobine van der Vloed.
The programme revolves around four core meetings, kicking off with a first content development workshop hosted by Aalto University in Helsinki in mid-October, touching on concepts, dramaturgy and target audiences.
A second meeting in Prague, running with the support of the Czech Film Fund and the Czech Audiovisual Producers Association, will focus on financing opportunities and strategies.
The third session will tackle the producers' wider business strategies, providing them with models of sustainable company management and ways to build businesses that have real value. It will take place in Amsterdam with the support of the Netherlands Film Fund.
It will be followed by the ACE Annual Reunion in Edinburgh, supported by Screen Scotland, at which the new producers will be officially welcomed into the ACE Network.
The body highlighted the fact that it will be the first time that a key ACE event has been held in the UK since the association's creation in 1993.
Initially based in Paris, before moving to Amsterdam in 2017, ACE is an invite-only network of experienced independent film producers from Europe and beyond, with around 250 members from more than 45 countries.
It is supported by Creative Europe MEDIA, The Netherlands Film Fund, The Czech Film Fund, Aalto University, Procirep, Téléfilm Canada, German Films, Screen Ireland, Focal, Rai Cinema, the Czech Audiovisual Producers' Association, Audiovisual Producers Finland and the Nordisk Film & TV Fond.
The full list of selected producers and projects:
Daniel Baur, K5 Film (Germany)
ACE Project: Bad Company by Robert Schwentke
Artemio Benki, Sirena Film (Czech Republic)
ACE Project: Cyclopath by Karim Ouelhaj
Miha Černec, Staragara (Slovenia)
ACE Project: The Bullet and the Bell by Jan Cvitkovič
Per Damgaard Hansen, Masterplan Pictures (Denmark)
ACE Project: Tove by Trine Piil
Clément Duboin, Good Fortune Films (France)
ACE Project: Grand Ciel by Akihiro Hata
Laura Fernandez, Filmax (Spain)
ACE Project: A Present for Annie director TBD
Felize Frappier, Max Films Media (Canada)
ACE Project: The Dictator's Son by Mathieu Denis
Viola Fügen, Match Factory Productions (Germany)
ACE Project: Brothers by Türker Süer
Danielle Guirguis, Smarthouse Films (The Netherlands)
ACE Project: The Green-Eyed Monster by Marleen Jonkman
Alexandra Hoesdorff, Deal Productions (Luxembourg)
ACE Project: The Golden Hour by Heidi Greensmith
Kurban Kassam, Raucous Pictures (UK)
ACE Project: The Parcel by Umesh Kulkarni
Lasha Khalvashi, Studio Artzim (Georgia)
ACE Project: Fishing by Tinatin Kajrishvili
Jesper Kurlandsky, Fasad (Sweden)
ACE Project: Barry by Agnieszka Lukasiak
Sarah Marks, Savage Film (Belgium)
ACE Project: Elephants by Nathalie Teirlinck
Elina Pohjola, Citizen Jane Productions (Finland)
ACE Project: The Squirrel by Markus Lehmusruusu
Lukas Trimoni, iN_SCRiPT (Lithuania)
ACE Project: Funny and Sad Life of George by Egle Vertelyte
Ingmar Trost, Sutor Kolonko (Germany)
ACE Project: Beautiful Souls by Tom Schreiber
Vincent Wang, House on Fire (France)
ACE Project: Entrelacs by Nicolas Sarkissian