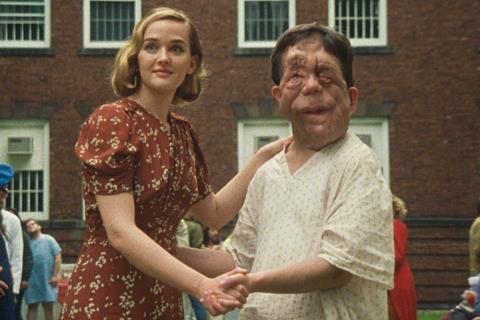 UK actor and campaigner Adam Pearson has called on casting directors to "make some very bold decisions" when considering disabled actors for feature film roles.
Pearson has neurofibromatosis – a disorder that causes tumours to form on nerve tissue – and is known for his memorable appearance opposite Scarlett Johansson in Under The Skin and as an award-winning documentary presenter.
Following a screening of dark comedy Chained For Life, in which he stars, Pearson said: "I hate it when people go, 'That's a brave choice, casting a disabled person.' No, it isn't. It's a good choice. They're a damn good actor. It's just that they [casting directors] haven't been lazy and done the easy thing."
The UK actor also said there was a need to "empower disabled people to write [scripts] and tell their own stories" and called for more accessible venues for auditioning, highlighting a recent incident where wheelchair users had to audition in a Starbucks because the chosen venue did not have disabled access.
The actor was cast in Chained For Life by writer-director Aaron Schimberg, who also has a facial difference and had already written the character of a British man with neurofibromatosis when he saw Pearson in Under The Skin.
Schimberg's meta comedy examines representation in film and is set around the making of a low-budget horror. Jess Weixler (Teeth) stars as Mabel, an able-bodied actress playing the role of a blind woman in the film-within-a-film and explores how she connects co-star Rosenthal, played by Pearson.
"There's a really clever line [in the film] when Mabel asks Rosenthal if he has representation," said Pearson. "That can mean 'Do you have an agent?,' but also 'Are you represented at all in this industry?'
"That's what we really want to drill down into. What's ok, what's not ok? The narrative that anyone can play anything and 'it's just acting' advocates all sorts of things such as blacking up. Laurence Olivier did that for Othello in 1965 and won an Oscar. But would that happen in 2019? I don't think so.
"There's also the idea that disabled actors playing disabled characters is somehow 'less acting'. Now take that logic and extrapolate it among other protected characteristics. So when Idris Elba plays Nelson Mandela – a black male playing a black male – is that not acting? The arguments don't stand up."
He added: "The only way we're ever going to get the levelling of the playing field with regards to representation… is by getting everyone in the room and having the conversation.
"Hopefully, this film will be a catalyst for change. Anything that sparks meaningful debate can only be helpful."
Chained For Life debuted at BAMcinemaFest in June 2018 and was subsequently selected for Berlin Critics Week, the BFI London Film Festival, Fantasia, Thessaloniki and Fantastic Fest, among others.
New distribution outfit Anti-Worlds is handling the UK release, with a limited theatrical run from October 25, while Kino Lorber has been managing a limited US release since September. Shot in Brooklyn, New York and Harrisburg, Pennsylvania, it was produced by Flies Collective, Grand Motel Films and The Eyeslicer.