From Batgirl to Black and Bad Boys for Life, Adil El Arbi and Bilall Fallah seem to pivot effortlessly between big budget US features and edgy independent European films. Their latest, Syrian-war drama Rebel, premieres out of competition in Cannes this week.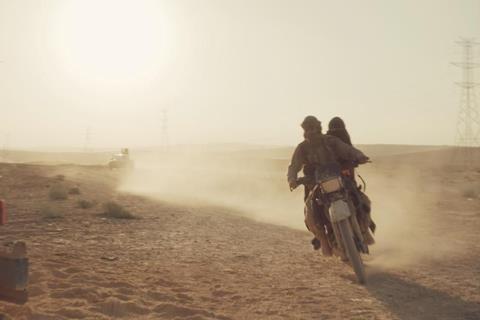 When Belgian-Moroccan filmmakers Adil El Arbi and Bilall Fallah first met at film school in Belgium together, they were drawn together for very obvious reasons.
"Everyone [else] was white," Adil remembers.
Bilall was the only other Moroccan. "That's why he talked to me. He said, 'are you Moroccan' and that's how it started."
Thus began a beautiful friendship which has seen the duo directing movies that have caused riots in Belgian cinemas (2015's Black) and have topped US box office charts (2020's Bad Boys For Life starring Will Smith and Martin Lawrence). Their latest, Rebel, which premieres out of competition in Cannes this week, deals with identity, terrorism and politics in the Middle East.
Written and directed by El Arbi and Fallah, Rebel is being sold by CAA in the US and Wild Bunch internationally. The Belgian-made film tells the story of Kemal, a young man who heads to Syria, hoping to assist war victims, and is forced to join a militia in Raqqa, the capital of the newborn ISIS. Back home his younger brother Nassim feels stifled by his worried mother and becomes easy prey for radical recruiters, who promise to reunite him with his brother.
"There was a certain point around 2012/2013 when a bunch of people, a lot of them of Moroccan origin decided to go to Syria," says Adil, sketching out the background inspiration for Rebel. "They saw what was happening there. People were massacred by a dictator.
"Some people were radicalised and went there. Some other people went there first because they were outraged by what they saw, mainly the violence…Some people started out as [part of] a humanitarian project and slowly but surely evolved into taking up arms and then eventually got sucked into what would become ISIS."
Adil points out that even the most reasonable seeming people could become radicalised. "It's actually more scary and terrifying if you see they are not monsters. They are human beings. It can happen to somebody close to you. Somebody close to you could go and do monstrous things. It can be a family member, a friend, someone you like or love."
As ever in their work, music plays a major part in the storytelling. "Music is a very important part of Arab culture, Muslim culture. Whether it's Moroccan or Syrian culture, music is part of that - and it seems very appropriate to use that in the movie, Arabic songs, Arabic voices…at the same time, a lot of these guys come from the hood whether Molenbeek, Brussels, or the banlieue in Paris where rap culture, hip hop culture, is very important."
Rebel is produced by Bart Hamelinck and Dimitri Verbeek through Belgian outfit Caviar alongside Beluga Tree, Calach Films, Imaginarium Films and Le Coilectif 64.
The new film is far removed from their another of their recent projects, Batgirl, their upcoming Warner Bros/DC film for which they recreated the world of Barbara Gordon and Bruce Wayne…in Scotland.
"It was one of the best experiences we ever had. We shot in Glasgow which doubled for Gotham City. We just loved the environment. Everywhere you put the camera, it was just cinema right away. The crew and people who worked there were not only very experienced and good but very, very friendly. We'd love to go back there and shoot because there is a lot of personality in the environment, the history and the people," Adil comments.
Afil and Bilall move easily between big budget US projects and edgy independent European films. They love the cinema of Jacques Audiard but are also big fans of big superhero and popcorn movies.
"We love watching both and love trying to do both," Adil says, speaking on behalf of his partner. "In making a movie like Bad Boys For Life, we learned so much about the technical aspects of filmmaking which then helps us as a training to go into something that is harder, edgier, less broad commercial…there's way less budget [in Europe] but it also means we have way more freedom on an artistic level to take risks and try things out."
On the indie side, they'll soon be making 2000, an adaptation of the novel by Dirk Bracke. "It plays out in the year 2000. It's a kind of coming of age story but also about trauma and abuse. It's like [one of] the very personal projects we do in between the big Hollywood projects."
The two directors are also becoming skilled in the art of press and publicity. For example, ask Adil for his perspective on the Will Smith scandal at the Oscars and he neatly side-steps the question.
"I'll just say that a lot of things have already been said about that. I'll just say he [Will Smith] is our big brother, we love him and we wish him the best."
Adil and Bilall have come a very long way since they they were the only two non-white students in their film school class. Superhero TV miniseries Mrs Marvel, another of their new projects, is scheduled for an early June premiere. Several other projects are on the horizon. But, yes, they've experienced racism along the way.
"Elements that are present in society - sexism, racism and all that - you're going to have that forever. That's why you need to try to fight against it. The movie world is not a bubble that is separate from the real world. It is a part of society, a reflection of society, so the same problems you're going to have in the real world, you're going to have that too," Adil reflects. "The day you stop fighting against racism is the day that racism has won."