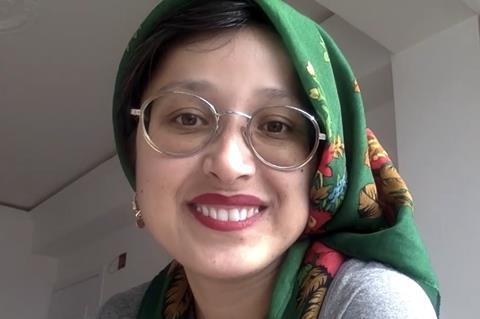 Award-winning Afghan director Shahrbanoo Sadat has made it out of Afghanistan after a tense few days awaiting safe passage, her Copenhagen-based producer Katja Adomeit has announced.
Sadat is best known for her second feature Wolf And Sheep, which won the main award at Cannes Directors' Fortnight in 2016, and third feature The Orphanage, which also played in the parallel section in 2019.
"With the help of the French government and from people all around the world, Shahrbanoo made it after many days together with nine family members through the crowds and Taliban checkpoints into the airport," Adomeit said in a statement.
"Communication with Shahrbanoo Sadat at the moment is difficult, but she has confirmed she is in Abu Dhabi soon boarding a plane to Europe," she added.
Sadat was born in Iran to Afghan refugee parents and spent her later childhood in a remote village in central Afghanistan. She has strong ties with France having attended the French documentary workshop Ateliers Varan, where she made her first fiction short, Vice Versa One, and Cannes' Cinéfondation Residence where she developed Wolf And Sheep.
German-born, Denmark-based Adomeit, who produces under the banner of Adomeit Films, has worked with Sadat since her 2013 debut feature Not At Home. They are currently collaborating on the filmmaker's fourth feature Kabul Jan about a clandestine relationship between a young woman and an older, married man in a violent, war-torn city.
Sadat is among tens of thousands of Afghan citizens who have decided to flee Afghanistan following the sudden return to power of the hardline Islamist Taliban group earlier this month in the wake of US withdrawal of troops from the country after 20 years.
The emerging Taliban regime has promised to respect women's rights as well as an amnesty for those who worked against them but many Afghans remain sceptical.
They fear a return to the harsh Islamic regime of the Talibans' last term in power in the late 1990s, which confined women to their homes; denied girls education; banned film, TV and music; and endorsed public beatings and executions for those found guilty of breaking their strict interpretation of Islamic religious laws.
Most of the country's filmmakers are now attempting to get out of the country, fearing for their safety and that of their families.
Over the weekend, it emerged that outspoken director Sahraa Karimi, whose debut feature Hava, Maryam, Ayesha premiered in Venice in 2019, had escaped to Kiev with her family with the help of Ukrainian and Turkish authorities.
Karimi, who is also the head of the Afghan Film Organization, is now working to get dozens of other artists out of the country, saying she fears for their lives under Taliban rule.