EXCLUSIVE: First image released of Paris-based walking dead drama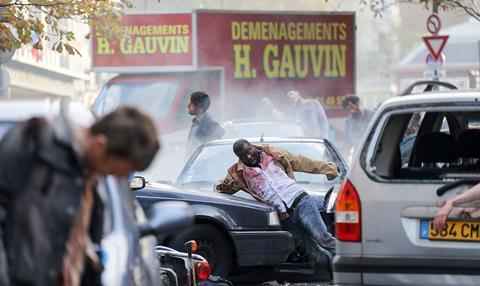 French genre specialist WTFilms is launching sales on Paris-set zombie survival picture The Night Eats The World which started shooting in the French capital last week.
The feature marks a return to genre for French film and TV company Haut et Court, which previously produced the hit TV series Les Revenants about the dead inhabitants of a mountain town who mysteriously come back to life.
Its other recent credits include TV series The Young Pope, and The Lobster, on which it was a co-producer.
"Haut et Court have put together a tremendous team both in front and behind the camera", said WTFilms co-chiefs Gregory Chambet and Dimitri Stephanides.
The film is the directorial debut of Dominique Rocher whose previous work includes the award-winning the sci-fi drama La Vitesse du Passé.
Anders Danielsen Lie plays protagonist Sam who wakes up alone in a Paris apartment, where a party was raging the night before. But it is the aftermath of an invasion of the city by the living dead and Sam feels he may now be a lone survivor. Other cast members include Golfishteh Farahani, Denis Lavant and Sigrid Bouaziz.
Rocher co-wrote screenplay with Guillaume Lemans (Anything for Her) and Jeremie Guez (Yves Saint Laurent).
"We've no doubt that with its quality cast and unique premise of zombies in Paris, this English language project has everything that buyers are looking for: an elevated, theatrical experience with a high festival potential," said Chambet and Stephanides.
Other titles on the company's AFM slate include The Eavesdropper, starring François Cluzet and Alba Rohrwacher, and the recently announced biopic of the late actress Sharon Tate starring Kate Bosworth.