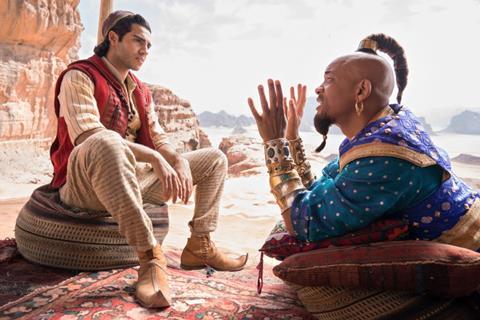 Today's GBP to USD conversion rate: 1.26
Full screen
| Rank | Film (Distributor) | Three-day gross (May 31-June 2) | Total gross to date | Week |
| --- | --- | --- | --- | --- |
| 1 | Aladdin (Disney) | £4.9m | £19.8m | 2 |
| 2 | The Secret Life Of Pets 2 (Universal) | £2.9m | £11.9m | 2 |
| 3 | Rocketman (Paramount) | £2.5m | £12m | 2 |
| 4 | Godzilla: King Of The Monsters (Warner Bros) | £2.3m | £3.5m | 1 |
| 5 | Pokemon: Detective Pikachu (Warner Bros) | £660,000 | £12.5m | 4 |
Disney
Following its £5.7m opening weekend, Aladdin impressed again this time out, dropping a slender 15% with £4.9m, a result that belied the good weather in the UK. That figure was enough to see it hold onto the number one spot for a second weekend in a row.
Aladdin is now up to £19.8m in the UK to date. It should comfortably surpass fellow Disney title Dumbo in the coming weeks, which is on £24.9m so far, and will have its sights on 2016 release The Jungle Book, which grossed £46.2m.
Avengers: Endgame added £480,000 and is up to £86.9m in the UK. Dumbo is on £24.9m after posting a further £16,000.
Universal
Family animation The Secret Life Of Pets 2 added £2.9m in it second weekend, a drop of 17.1% on its opening session. The film also benefited from the UK schools half term this week, during which it took around £4m, meaning cume to date is £11.9m including its previews prior to opening weekend.
The original film in the franchise ended on £36.6m from its UK run, meaning the sequel still has some way to go to match that total.
Opening for Universal this weekend was Tate Taylor's horror-thriller Ma, starring Octavia Spencer as a lonely woman who befriends a group of teenagers and decides to let them party at her house, with events taking a strange turn. The film took £507,901 across Fri-Sun from 398 sites, an average of £1,276 per venue. That result looks underwhelming in comparison with the film's US debut of $18.3m (£14.5m).
Elsewhere, The Hustle added £79,080 for £3.2m to date.
Paramount
In its second weekend, Elton John biopic Rocketman dropped a solid 37.5% with £2.5m. Including strong midweeks, the film has moved on to £12m so far. The film will need serious legs to challenge A Star Is Born, which benefited from an awards campaign on its way to £31m in the UK.
Paw Patrol Mighty Pups added £129,000 for £1.2m so far, while Wonder Park added £10,000 and is on £4.5m.
Warner Bros
Godzilla: King Of The Monsters, the latest entry in the monster movie franchise, opened with £2.3m from 530 sites, an average of £4,340 per venue. That figure means it didn't manage to top the three key holdovers from last week, leaving it fourth on the chart. Including previews, the film is up to £3.5m so far.
That's a step down from its predecessor, Gareth Edwards' 2014 Godzilla, which opened with £6.4m in the UK on its way to a £17.2m run.
The film also struggled on its US debut, taking $49m (£38.8m). It's overall global of $179m (£141.6m) was significantly boosted by its China debut of $70m (£53.4m).
Pokemon: Detective Pikachu added £660,000, retaining its place in the top five, for a cume of £12.5m to date. The Lego Movie 2 is up to £18.7m from its UK run, The Curse Of La Llorona is on £1.6m, and Shazam! is on £13.3m.
Lionsgate
John Wick: Chapter 3 - Parabellum added £639,777 this weekend and is up to £8m from its UK run.
Long Shot took £7,724 and on £2.4m, Missing Link added £6,446 and is on £3.2m, while Red Joan took £6,446 and is on £3.2m.
Entertainment One
Booksmart, Olivia Wilde's directorial debut starring Kaitlyn Dever and Beanie Feldstein, opened to a Fri-Sun £324,917 from 408 screens, an average of £796 per venue.
The film, which tells the story of two academic superstars and best friends who, on the eve of their high school graduation, realise they should've worked less and partied more, resolving to try and cram four years' worth of fun into one evening, also took £307,446 from previews during the week and a small amount last weekend. It's cume stands at £632,363.
Peppa Pig: Festival Of Fun is up to £2.8m, A Dog's Journey is on £1.4m, while Wild Rose is on £2.8m.
Studiocanal
Aretha Franklin doc Amazing Grace added £24,040 for £585,679 to date.
Jeanne Herry's French drama In Safe Hands opened with £1,257 lifetime and is on £2,268 with previews.
Vertigo Releasing
Jim Cummings' comedy Thunder Road, which premiered at SXSW last year, grossed £22,231 Fri-Sun. With previews, the film stands at £44,031.
Curzon
Laszlo Nemes' period drama Sunset opened on 25 screens over the weekend, taking £20,088. With £16,063 in previews, it now stands at £36,151.
Birds Of Passage expanded to 21 screens from Friday (May 31), taking £10,075 over the weekend with a running total of £124,617.
Picturehouse Entertainment
Woman At War took a further £8,196 over its fifth weekend, bringing the running cume up to £295,871, topping the lifetime of fellow Icelandic feature Rams.
20th Century Fox
Tolkien played in 100 sites this weekend and has now reached £1.7m.
India's Most Wanted, the Hindi action thriller, grossed £51,783 from 13 sites this weekend, an average of £3,983 per cinema.
Thunderbird Releasing
Clare Denis' High Life, starring the recently confirmed next actor to take on Batman, Robert Pattinson, added £6,160 from 11 screens and is up to £228,151 to date.