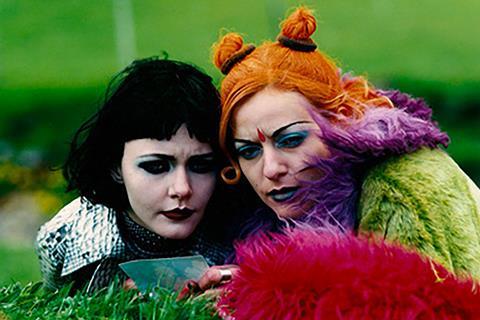 Alamo Drafthouse Cinema is partnering with Danish Film Institute on a year-long celebration of Danish cinema to run as a bimonthly curated series of films on recently launched Alamo On Demand VOD.
The series comprises six bundles of six films and kicks off today (June 25) with a Danish Film/Women Directors selection, with the support of the ministry of culture and the Danish ministry of foreign affairs.
Danish Films/Women Directors features six films: Frederikke Aspöck' prison comedy Out Of Tune; Pernille Fischer Christensen's friendship drama A Soap; Isabella Eklöf's Fantastic Fest 2018 best film winner Holiday; May el-Toukhy's multiple 2020 Danish Film Awards winner Queen Of Hearts; Annette K. Olesen's Dogme 95 prison drama In Your Hands; and Katrin Ottarsdóttir's road movie Bye Bye Bluebird (pictured).
Alamo said anyone who watches all 36 films in the series will be invited to a Meet the Danes party in Los Angeles at a date to be announced.
Six Danish crime films launch on August 26 ranging from the early work of Nicolas Winding Refn to stunt-fuelled Danish action comedies.
"Denmark is a bit bigger than New Hampshire and has about the same population as Houston," said Alamo Drafthouse and Fantastic Fest founder Tim League. "Given its small size, I am staggered by the sheer depth and breadth of the cinematic majesty that consistently pours out of Denmark.
"Is it the rich Nordic mythology, the (possibly genetic) Danish dark and dry sense of humour, the financial and filmmaker community support of the Danish Film Institute, the attention to craft and detail of the Danish design legacy? I'm not sure we'll ever figure out why Danish films are so damned good. The "why" doesn't matter, just accept that Danish cinema is fantastic. And if you haven't explored this world, you are in for a year-long treat."
Beginning today and continuing for the next year, curated series of Danish films will debut on the Alamo On Demand VOD platform. New "six packs" of movies, each built around a different theme, will debut on the last Thursday of the month every two months. Select films will be paired with exclusive special features, including filmmaker introductions, interviews, and Danish short films.
"It's a privilege to present such a wide variety of Danish films to an American audience. Alamo Drafthouse has put together a diverse programme ranging from the silent era to the present, featuring classic directors and new talents alike," said Danish Film Institute CEO Claus Ladegaard. "Showing the breadth of Danish storytelling, the films paint a picture of the different milieus, values, dreams and struggles that occupy the Danes. We look forward to following the response and experiences of American audiences as the programme runs over the next year."