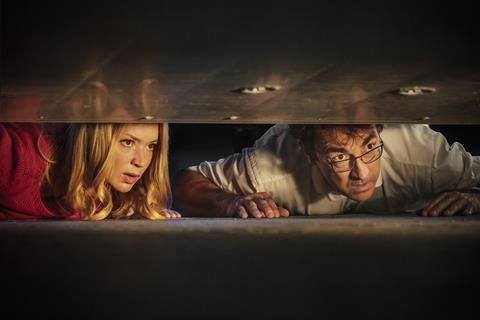 Albert Dupontel's Bye Bye Morons topped the awards at a politically-charged 46th Césars ceremony on Friday evening (March 12), marked by growing anger within the French film industry over the ongoing closure of cinemas and other cultural spaces as part of anti-Covid-19 measures.
Bye Bye Morons clinched seven Césars including best film, director, cinematography (Alexis Kavyrchine), best original screenplay (Dupontel), best supporting actor (Nicolas Marié), best production design (Carlos Conti) and the fledgeling César des Lycéens, which is voted on by 1,500 high school students.
Dupontel, who previously won best director and best adapted screenplay Césars for See You Up There and best screenplay for 9-Month Stretch, never attends the César ceremony out of personal preference and was not present on Friday. He was represented on stage by producer Catherine Bozorgan.
Voted on by the 4,292 members of France's Academy of Cinema Arts and Techniques, the awards were reserved for films that received a theatrical release in 2020, a year in which French cinemas were shut for a total of 23 weeks due to the pandemic.
Nearly all the filmmakers and stars who took to the stage at the socially distanced event at the Olympia concert hall in Paris used their slots to call for the re-opening of cinemas and other cultural places.
After a 14-week closure last spring, French cinemas reopened over the summer and early autumn before closing for a second time at the end of October with no indication from the government as yet on when they might reopen.
The most startling protest of the evening was that by actress Corinne Masiero.
She arrived on stage to announce the winner for best costume draped in a donkey outfit and covered in fake blood and proceeded to strip naked to reveal slogans on her body declaring solidarity for freelance workers in the culture and entertainment sectors.
Earlier in the evening, representatives of the entertainment workers union, the CGT Spectacle, took to the stage to highlight the plight of thousands of behind-the-scenes professionals whose futures remain uncertain while cultural places remain closed.
The union's members have been occupying around 20 theatres and concert venues across France since the beginning of March.
Many of Friday night's winners enjoyed only fleeting releases last year. Gaumont released Bye Bye Morons, for example, on October 21, just one week before cinemas were closed again. Josep, which won best feature animation, suffered a similar fate. The film's distributor Sarah Chazelle at Jour2Fête said the film would go back into cinemas again once they reopened.
The breakout winner of the evening was Sébastien Lifshitz's Adolescents, which follows two teenage girls growing up in a small provincial town over the course of five years. It won best documentary, sound and editing.
Further highlights included best actress for Call My Agent! star Laura Calamy for her performance in Caroline Vignal's romantic comedy-drama My Donkey, My Lover & I and best actor for Sami Bouajila in Tunisian drama A Son.
Best foreign language film went to Danish director Thomas Vinterberg's best international film Oscar frontrunner Another Round.
César nomination frontrunner Love Affair(s) by Emmanuel Mouret started the night in the running for 13 awards and went home with just one trophy for best supporting actress Emily Dequenne.
Last year's César ceremony was equally tumultuous but for different reasons.
The show was marked by the sudden resignation of the entire governing board days before it was due to take place amid criticism over a lack of transparency, gender equality and diversity in its ranks, as well as controversy over the fact that Roman Polanski's An Officer And A Spy was the frontrunner at the nomination stage. It would go on to win best screenplay adaptation, costume and best director, with the latter prize prompting a walkout by actress Adèle Haenel.
Since then, the membership and leadership of France's Academy has been completely overhauled with its first-ever democratic election to vote in a gender-equal co-presidency and governing board.
The academy also wants to become inclusive and representative of the entire French population.
There is still much work to be done on that score but wins on Friday night in the best new hope categories for Fathia Youssouf, for her performance in Cuties, and Jean-Pascal Zadi for Tout Simplement Noir, were seen as a sign that the body and its members want to remain true to this ambition.
2021 César nominees and winners (winners in bold)
Best director
Albert Dupontel, Bye Bye Morons
Maïwenn, DNA
Sébastien Lifshitz, Adolescents
Emmanuel Mouret, Love Affair(s)
François Ozon, Summer Of 85
Best film
Bye Bye Morons, Albert Dupontel
Adolescents, Sebastien Liftshitz
My Donkey, My Lover & I, Caroline Vignal
Love Affair(s), Emmanuel Mouret
Summer Of 85, François Ozon
Best screenplay
Alberto Dupontel, Bye Bye Morons
Caroline Vignal, My Donkey, My Lover & I
Emmanuel Mouret, Love Affair(s)
Filippo Meneghetti, Malysone Bovorasmy, Two Of Us
Benoît Delépine, Gustave Kervern, Delete History
Best screenplay adaptation
Olivier Assayas, Cuban Network
Hannelore Cayre, Jean-Paul Salomé, Mama Weed
François Ozon, Summer Of 85
Stéphane Demoustier, The Girl With Bracelet
Eric Barbier, Small Country: An African Childhood
Best Actress
Laure Calamy, My Donkey, My Lover & I
Martine Chevallier, Two Of Us
Virginie Efira, Bye Bye Morons
Camlia Jordana, Love Affair(s)
Barbara Sukowa, Two Of Us
Best actor
Sami Bouajila, A Son
Jonathan Cohen, Enormous
Albert Dupontel, Bye Bye Morons
Neils Schneider, Love Affair(s)
Lambert Wilson, De Gaulle
Best actress in a supporting role
Fanny Ardant, DNA
Valeria Bruni Tedeschi, Summer of 85
Emilie Dequenne. Love Affair(s)
Noémie Lvovsky, How To Be A Good Wife
Yolande Moreau, How To Be A Good Wife
Best actor in a supporting role
Edouard Baer, How To Be A Good Wife
Louis Garrel, DNA
Benjamin Lavernhe, My Donkey, My Lover & I
Louis Garrel, DNA
Vincent Macaigne, Love Affair(s)
Nicolas Marié, Bye Bye Morons
Best female acting hope
Mélissa Guers, The Girl With The Bracelet
India Hair, Sexfish
Julia Platon, Love Affair(s)
Camille Rutherford, Felicita
Fathia Youssouf, Cuties
Best male acting hope
Guang Huo, Night Ride
Félix Lefebvre, Summer Of 85
Benjamin Voisin, Summer Of 85
Alexandre Wetter, Miss
Jean-Pascal Zadi, Tout Simplement Noir
Best original music
Christophe Julien, Bye Bye Morons
Stephen Warbeck, DNA
Mateï Bratescot, My Donkey, My Lover & I
Jean-Benoït Dunckel, Summer Of 85
Rone, Night Ride
Best sound
Jean Minondo, Gurwal Coïc-Gallasm Cyril Holtz, Bye Bye Morons
Yolande Decarsin, Janne Delplancq, Fanny Martin, Olivier Goinard, Adolescents
Guillaume Valeix, Fred Demolder, Jean-Paul Hurier, My Donkey, My Lover & I
Brigitte Taillandier, Julien Roig, Jean-Paul Hurier, Summer Of 85
Best cinematography
Alexis Kavyrchine, Bye Bye Morons
Antoine Parouty, Paul Guilhaume, Adolescents
Simon Beaufils, My Donkey, My Lover & I
Laurent Desmet, Love Affair(s)
Hichame Alaouié, Summer Of 85
Best editing
Christophe Pinel, Bye Bye Morons
Tina Baz, Adolescents
Annette Dutertre, My Donkey, My Lover & I
Martial Salomon, Love Affair(s)
Laure Gardette, Summer Of 85
Best Costume
Mimi Lempicka, Bye Bye Morons
Madeleine Fontaine, How To Be A Good Wife
Hélène Davoudian, Love Affair(s)
Anaïs Romand, Sergio Ballo, De Gaulle
Pascaline Chavanne, Summer Of 85
Best production design
Carlos Conti, Bye Bye Morons
Thierry François, How To Be A Good Wife
David Faivre, Love Affair(s)
Nicolas De Boiscuillé, De Gaulle
Benoït Barouh, Summer Of 85
Best animation
Calamity, Rémi Chayé
Josep, Aurel
Little Vampire, Joann Sfar
Best short animation
Bach-Hông, Elsa Duhamel
And Then The Bear, Agnès Patron
Shooom's Odyssey, Julien Bisaro
Nettle Head, Paul Cabon
Best first film
Two Of Us, Filippo Meneghetti
My Best Part, Nicolas Maury
Cuties, Maïmouna Doucouré
Tout Simplement Noir, Jean-Pascal Zadi, John Wax
Arab Blues, Manele Labadi
Best documentary
Adolescents, Sébastien Lifshitz
The Tie, Etienne Chaillou, Mathias Théry
Cyrille, Rodolphe Marconi
Histoire d'Un Regard, Mariana Otero
The Monopoly Of Violence, David Dufresne
Best foreign-language film
1917, Sam Mendes
Corpus Christi, Jan Kosmasa
Dark Waters, Todd Haynes
Another Round, Thomas Vinterberg
The August Virgin, Jonas Trueba
Best short film
The Atomic Adventure, Loïc Barché
Freed, Josza Anjembe
Among The Almond Trees, Marie Le Floc'h
So What If The Goats Die, Sofia Alaoui
First Goodbyes, Mathilde Profit