The Golden Lion-winning filmmaker discussed his ambivalent relationship with cinema, his stormy friendship with Tarkovsky and the merit of actors, during a Qumra masterclass.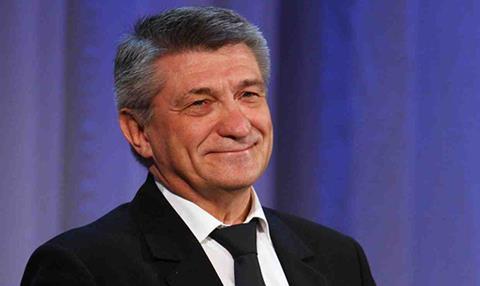 Aleksandr Sokurov is participating in the Doha Film Institute's Qumra event this week as one of its five 'Qumra Masters'. During his masterclass at Doha's Museum of Islamic Art on Tuesday, a rapt audience listened to the Russian film-maker wax lyrical on his deep love for literature, his close friendship with Andrei Tarkovsky, and his strong moral outlook on romanticised violence in film.
It was an often provocative talk in which Sokurov, whose feature credits include Russian Ark, Venice Golden Lion winner Faust, Francofonia, Moloch and Mother And Son, outlined his strong belief that film is a lesser artform, particularly when compared against great literature.
"I've never thought of cinema as something big," said Sokurov, setting out his stall right at the beginning. "I don't think of it that way even now. Cinema for me is just a form of art and nowadays it can be blamed for many things. It does not have any achievements."
"I'm one of those people who does not need cinema really," he added. "As a cultural phenomenon, it's deeply secondary. Singing cinema's praises is a huge overstatement."
Destructive impact of cinema
Sokurov had much he wanted to share with the Qumra audience, frequently consulting a blue notebook and even reading a verse from the Koran: "There are many angels in the sky but their protection does not guarantee your safety".
He expressed concern about the state of contemporary film, citing the lack of moral compass in characters as an overriding flaw in Western films in particular. "A person's moral motivation is more important for me but American films only speak about the social motivation of their characters."
Sokurov was also critical of romanticised portraits of violence, war and death, admitting it leads him to avoid the films of many directors, although he didn't mention any names.
"Sometimes when making up my mind whether I want to watch a film or not, I check what kind of a person the director is," he said. "If he's somebody who enjoys making creepy, horrible films, then maybe I don't watch it. He might be very talented but deep down he will carry within himself this destructive energy of going against life."
"Even if we can see that cinema brings something nice to our lives, we are living with the colossal and mind-blowing destructive impact that cinema brings with it since the '70s," he added.
Friendship with Tarkovsky
Sokurov regaled the crowd with tales of his friendship with Andrei Tarkovsky, which began at Moscow film school VGIK, where the latter taught and became his mentor. "He loved what I was doing but, to be honest, I was quite reserved about his work. In hindsight, I think, 'Wasn't I brave to go against him?' I was insane to argue with this great master," admitted Sokurov.
Despite their disagreements, the two men became enduring comrades in arms. Sokurov described Tarkovsky as a "kindred spirit" but bristled if he felt his mentor was over-praising him or his work.
"I would storm out of the room and refuse to drink the tea," said Sokurov. "I thought it was a sin to believe that you are a genius, and he was trying to convince me that I was a genius. There are no geniuses in film. It's not that sort of art form where you can create a perfect masterpiece. Literature, yes; music, probably yes; but never, ever film."
On actors, Sokurov cited the ability to convey an inner humanity and "personal feelings" as being more important than technical skills.
"It's a principle of cinema which is opposite to theatre. Dustin Hoffman: is he a great actor, or a great personality? I think he is not a great actor but he is a great personality. For me, it's very important to choose such a personality for my movies so that this personality is bigger than my ideas."
Tips for filmmakers
The director was quizzed by the audience on the practical aspects of his process, explaining that he always chooses the producers for his projects and works with total creative freedom.
He went into great detail about the technical challenges of shooting Russian Ark. Sokurov's one-shot steadicam wonder which he shot using the first generation of compact HD digital cameras, and which was the first uncompressed HD film, recorded onto a portable and specially created hard drive as Sokurov and his crew roamed the Hermitage for the film's 88-minute length.
Actors' appearances were choreographed to the precise second, and a two-minute pit stop was factored in for cinematographer Tilman Buttner to sit down and catch his breath while the camera continued rolling.
"We were very, very engaged with resolving all of it professionally; none of it was tricks," said Sokurov. "I had to know the whole technological process. Anyone who would like to work in film - you have to know everything. You have to know more than everyone on the crew. It's the biggest challenge in being a director."
Sokurov is planning a return to the theme of the second world war on his next film.
Also from Qumra:
Palme d'Or winner Nuri Bilge Ceylan: "Making mistakes is the best teacher"
James Schamus: Gulf can learn from China's box-office boom