The Russian Ark director is plotting a return to the subject of war.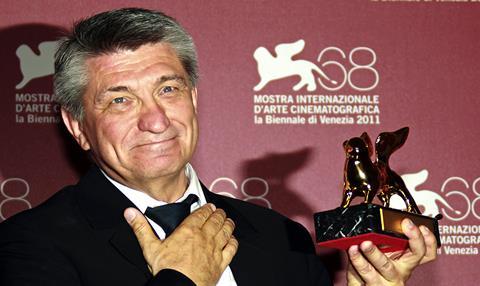 Alexsandr Sokurov will return to the subject of Second World War for his next film, which he will begin production on in 2016.
"It will be Second World War again," he confirmed to Screen in Doha, where the Venice Golden Lion winner delivered a Qumra masterclass.
"Probably it will be a comedy," Sokurov disclosed via a translator. "It will be based on the materials of Second World War."
The colourful and outspoken Russian film-maker, who wouldn't be drawn on any further details about the project, feels that Germany must do more to look at its past.
"I have to say that no serious research has been conducted within Germany on this period of Hitler. Second World War is much more complicated than it is presented now. Not all the countries were fighting Nazi Germany as furiously as Russia did."
Sokurov has a history of reappraising the lives of world leaders. In 1999, the director made Moloch, which showed a more human side of Hitler.
The fictional tale took place in 1942 while Hitler was on a weekend break at his Bavarian residence with his wife, Eva Braun. They discuss art and politics with their guests, including Martin Bormann and Josef Goebbels. Ultimately, Hitler came across as a weak man.
Speaking at Qumra, where Sokurov is one of the event's five 'Masters', he said that history may one day cast Hitler in a more positive light.
"There was a time in history where Napoleon was considered a criminal," he said. "In Russia they said that he was a criminal and disgusting. Hundreds of thousands of people died because of him. After 100 years only, he stopped being a criminal. Why? Don't you think it's important to think about that? Don't you think the same will happen with Hitler? That he will not be considered a criminal. Why is it like that?"
Sokurov also told Screen: "One day, I would like to make a film in the Islamic world, because I love humans and human nature above everything else. I want to understand people more. I have worked with people of many different nationalities: German, Japanese, Icelandic and French. I'm very interested in the Middle East."
Speaking at the Museum of Islamic Art in Doha, the Russian Venice Golden Lion winner added: "I start to understand what Muslim art is, in its essence. The main advantage of it is that is that it's very polite and sensitive and unfortunately European art lacks this politeness."