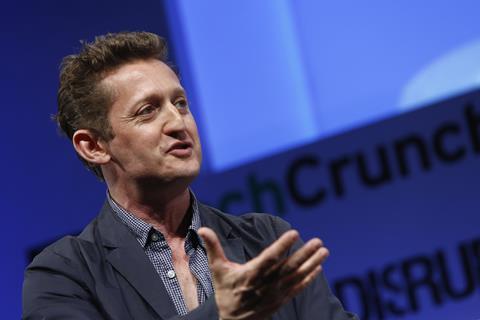 Entertainment tech company SingularDTV and Futurism Studios have greenlit Alex Winter's documentary Untitled Blockchain Film.
Winter (pictured), who directed SXSW 2015 documentary Deep Web among others after seguing from an acting career that saw him star opposite Keanu Reeves in the cult Bill And Ted films, has begun production on the feature project.
Untitled Blockchain Film is targeted for delivery in spring 2018 and will launch on SingularDTV's upcoming VOD platform. The documentary will demystify how technology is changing the world, in particular through blockchain, a digital ledger of transactions that operates across what proponents claim to be a highly secure, decentralised network.
Among other things, Winter will explore the global community of adopters, from billionaire investors, tech innovators and activists who are using the technology to address world hunger, the refugee crisis and income inequality.
The film marks the first original production from SingularDTV, which uses proprietary blockchain technology to enable content creators to fund, produce and market their material in a peer-to-peer content creation and distribution infrastructure that enables talent and investors to manage projects at all stages.
President of entertainment Kim Jackson, whose producer credits include Blue Caprice, is producing the documentary alongside Geoffrey Clark, president of Brooklyn-based Futurism Studios, the content division of science and technology publication Futurism. Executive producers are Zach LeBeau, Joseph Lubin, Alex Klokus and Arie Levy-Cohen.
"We are developing an ambitious slate of original productions, funded entirely by cryptocurrency, and distributed on our new peer-to-peer decentralised platform, and we're so inspired to begin with a future-forward documentary by the acclaimed directed Alex Winter," Jackson said.
Clark added, "This is an incredibly exciting time for filmmaking. We have the rare opportunity to redesign our finance and distribution models from the ground up, ensuring a more sustainable and equitable future. I believe Blockchain represents the next evolution of content creation, and we are excited to partner with top technologists and creatives to bring that vision to life."
"I'm thrilled to be making this film with the forward thinkers at SingularDTV and Futurism Studios," Winter said. "Decentralisation and the Blockchain are as captivating as they are confusing, and I look forward to making an entertaining and clarifying journey into this space, for believers and skeptics alike."