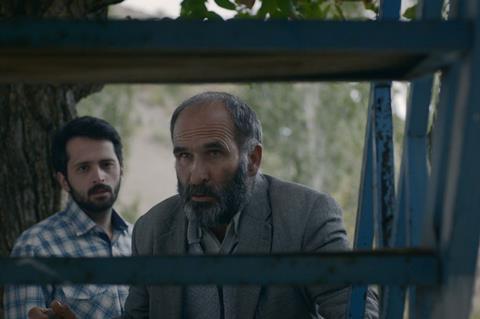 Ali Ozel's drama Steppe, about an elderly man who refuses to leave his home village after it is condemned to make way for a dam, broke records to sweep the awards of the national feature competition of the Antalya Golden Orange Film Festival over the weekend.
The debut feature won in nine categories clinching best film, director, first film, screenplay, cinematography, music, editing, actor and best supporting actor.
The decision to award the production both the best film and best first film prizes sparked criticism in certain parts of the industry but the jury said it stood by its choice, which was unanimous.
"All the votes we took were unanimous. We discussed each award individually. We made no distinction between small and large-scale productions and showed no favouritism," jury president Zeki Demirkubuz told Ozel as he handed over the best film prize.
He said the film had stood out at a time when cinema was being used by both government and opposition alike in Turkey to make political points.
"When cinema is prey to multiple competing agendas, we watched a film that reminds us of the nature of life, the past, what we have left behind, death and cemeteries, a film that restores us at least in part, that gives a sense of the zeitgeist, that goes in search of the truth."
A total of 10 features played in Antalya's national feature film competition which was reinstated this year having been cancelled in 2017 and 2018, in a move that prompted much of the local industry to boycott the festival.
Steppe also won the Turkish Film Directors' Guild (Film-Yön) Award for best film. It was dedicated this year to the memory of veteran Turkish director, Yavuz Özkan, who died in May.
In other awards not connected to Steppe, actress Selen Uçer won best actress for her performance in Love, Spell And All That, about two women who had a brief romance as teenagers and meet up 20 years later. Best supporting actress went to Aslı İnandık for her role in Breath, about characters brought together by death.
Best male actor went jointly to Alican Yücesoy and Mücahit Koçak for their respective performances in La Belle Indifference and Steppe. The award for best supporting male actor was shared by further cast members of Steppe, Ozan Dağara and Hakan Emre Ünal.
Separately, Turkish Film Critics' Association (SİYAD), represented on its jury by Agah Özgüç, Banu Bozdemir and Bülent Vardar, named Love, Spells and All That winner of its SİYAD Award.
Another 10 features played in the international competition. Japanese director Joe Odagiri's drama They Say Nothing Stays The Same, about a ferryman who is about to lose his livelihood as a bridge is constructed, won best film.
Iranian director Reza Mirkarimi clinched best director for family drama Castle Of Dreams. The film's lead Hamed Behdad won best male actor for his performance as a father of two young children reluctant to care for his off-spring after his ex-wife dies. Brazilian actress Regina Casé was named best female actor for her performance in Three Summers as a house maid left in charge of a luxury villa after its owner is arrested on corruption charges.
The jury consisted of Polish producer Ewa Puszczynska, Busan Film Festival director, Jay Jeon, ARTE Cinema managing director, Remi Burah, Icelandic filmmaker Rúnar Rúnarsson and Dutch actress, Johann Ter Steege, who was the chair.