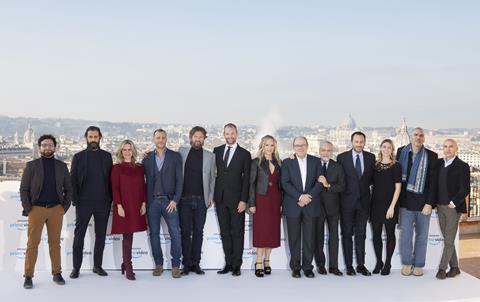 FremantleMedia's Bang Bang Baby, a coming-of-age crime drama set in the 1980s, will headline Amazon Studios' inaugural slate of Italian original productions unveiled today in Rome by Jennifer Salke, the head of Amazon Studios.
Bang Bang Baby has been created by Andrea Di Stefano and will start shooting in 2020. It is being produced by FremantleMedia's new Italian production arm The Apartment, headed by CEO Lorenzo Mieli, who also heads Fremantle Italy and is founder of Fremantle-owned Wildside, which is also producing the high-end TV project. The Apartment has produced The New Pope and the second series of My Brilliant Friend.
Bang Bang Baby has been in development with Fremantle for four years and is inspired by a true story. It is about a teenager looking for her father only to discover he is the boss of a mafia family.
Amazon is also financing Vita da Carlo's comedy series Vita da Carlo which will chronicle the everyday life of Italian comedy megastar Carlo Verdone. The series was created by Nicola Guaglianone and Menotti, both writers of They Call Him Jeeg. It is being produced by Filmauro, renowned for solid and local box office hits.
European strategy
"Global shows do not exist," director of European Amazon Originals Georgia Brown told Screen. "For Amazon what is important is to design Italian shows for Italian audiences and French shows for French audiences and this is so refreshing."
"With my background [Brown previously worked at Fremantle, Shine and BBC Worldwide] I was used to having to put something in for the American audience, something for the French audience… For years we've watched those Euro-pudding, those co-productions. And they're horrible. We don't want to do that."
Today's Rome announcements mark the first stage of Amazon's strategy to increase its presence in the key European markets of Italy and Spain. Brown underlined its focus on those two markets and the UK and said the company had no plans at present to back original productions in any other European territories at present.
"I'd love to do a handful of shows each year, but if we have only one we'll do only one," she said.
Amazon also unveiled its first European "social ambassador", the Italian music artist Fedez. It marks the third collaboration of the streaming platform with Fedez and his wife, fashion blogger Chiara Ferragni. Amazon produced Unscripted, a documentary about Ferragni, which premiered last year in Venice, and is featuring Fedez in the first edition of its Italian version of Celebrity Hunted.
Fedez will produce "spontaneous videos" and content for his own social media channels with his production company. But under the new agreement with Amazon he will also create more professionally crafted videos also to be distributed on his channels.
"We need to spread awareness of Amazon Prime in Italy, that is why we need Fedez," explained Nicole Morganti, Amazon's head of Italian Unscripted Originals, who brought Fedez into the Amazon fold.
No other European social media partnership are on the cards. "We are talking to other people in other territories but it depends on what that territory needs," Brown explained. "In the UK for example, awareness is less of a priority for us because we are big in that country. What we need there is to get to the new diverse audience. How do you invest, find and support the growth of more content for them? So we do not work with ambassadors but we work with organisations to mentor and tutor."
Brown described Amazon's strategy as "complementary to traditional broadcasters. We are not competition, we want them to continue make the shows they do so fantastically, the genres they do so well. We would never make kids shows in Italy for example".