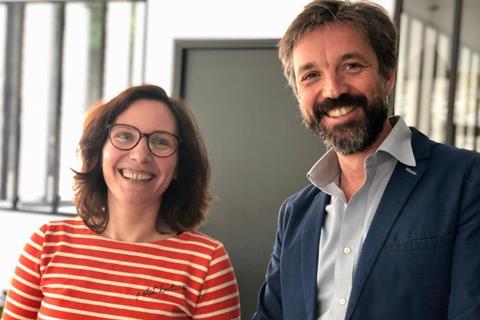 Paris-based documentary sales agent Anaïs Clanet, who previously operated under the banner of Wide House, has launched a new company called Reservoir Docs.
It will operate under the umbrella of Frédéric Corvez's film company Urban Group.
Clanet will be responsible for sales and acquisitions and will receive administrative and marketing support from the wider Urban team under the new structure.
"It will enable me to focus mainly on sales and acquisitions without having to worry about the day to day running of a company," commented Clanet.
The veteran documentary sales agent is a respected figure in the international documentary scene whose recent titles have included I Am Not Your Negro and Talking About Trees.
The creation of Reservoir Docs follows the decoupling of Wide House, which was spearheaded and run by Clanet, from Loic Magneron's Paris-based sales company Wide Management.
Corvez has acquired Magneron's majority stake on the Wide House label in an operation that includes its sales catalogue.
Urban's UDI sales division also has a history of selling documentaries.
Corvez explained, however, that under the new structure, Reservoir Docs will now be the main port of call for documentaries while UDI will focus on live action and animation fiction features.
"We will work closely together behind the scenes, with Anaïs receiving support from the whole team but there will be two distinct banners, UDI and Reservoir Docs."
Clanet's first acquisition for Reservoir Docs is Swiss-based British-American filmmaker Sean Fee's documentary Boarders, exploring the rise of skateboarding in the UK from its arrival in the early 1970s to it becoming endorsed as an Olympic sport.
It follows five UK skateboarders on their journey towards the 2020 Tokyo Olympics, which have since been postponed until 2021 due to the Covid-19 pandemic, where skateboarding was to have made its debut as an Olympic sport.
"It's also got lots of archival material which is fascinating," commented Clanet, who is gearing up to launch the title in the Doc Corner of the Marché du Film Online.
Other current titles include Carl Th. Dreyer Reborn, a restored and expanded version of the 1995 award-winning documentary about the late Danish director, and Icarus Balance, exploring the consequences of global warming on the Mediterranean basin.
Looking to the future, Clanet said she expected her slate to include more and more English-language projects.
"The idea is to find films which are strong, and more and more in English, because it's important for international sales, as well as to work more closely with my network of producers and directors than I have been able to in the past," she said.
She also plans to continue selling arts and culture documentaries which were a mainstay of her Wide House slate.
"They will remain an important part of the slate. Arts and Culture-themed documentaries sell all year-round while engaged works with strong auteur voices take longer to launch. When I worked on I Am Not Your Negro, for example, I was on it 100% for a year."