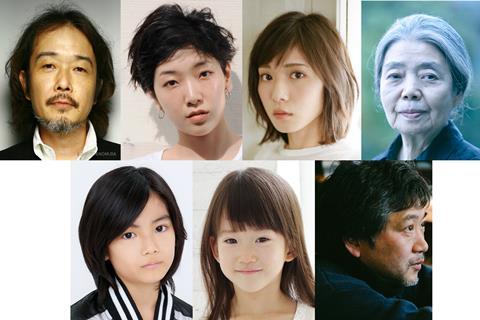 Japan's Gaga Corp has unveiled details of Hirokazu Kore-eda's new as-yet-untitled project, which is currently shooting with a cast including Ando Sakura and Lily Franky.
Franky and child actor Jyo Kairi play a father and son from a poor family who take in a small girl (Miyu Sasaki) they find freezing on the streets after one of their shoplifting sessions together. Ando plays the mother with Mayu Matsuoka as her sister and Kiki Kirin as the grandmother on whose pension the family is heavily dependent.
While Franky and Kiki are both Kore-eda regulars, the film marks the first time that Ando and Matsuoka have worked with the director.
Ando is known for her roles in critically-acclaimed independent films including 100 Yen Love and Love Exposure, while Matsuoka's credits include the Chihayafuru series and Kirishima Thing. Both child actors were found after auditions and are making their film debuts.
The film, which has been shooting since mid-December, marks a return to family drama for Kore-eda who won critical acclaim last year for crime drama The Third Murder, which premiered at Venice.
Best known internationally for award-winning family stories such as Nobody Knows and Like Father, Like Son, Kore-eda has been working on the script of this new project for the past ten years.
Gaga is producing with Fuji Television Network and AOI Pro and will also handle sales for Asian territories with Wild Bunch handling the rest of the world. Gaga will also release the film theatrically in Japan in June 2018.