The company's new IMAX laser system will be installed in 75 locations across the UK, Europe, Asia and North America.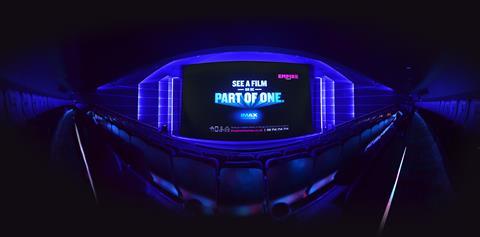 IMAX has closed deals for its new laser vision technology for more than 75 sites, which it intends to roll out over the next year.
There are currently seven locations with the new technology in operation: four in North America; one in Melbourne; the Empire Leicester Square in London, which opened in September for the release of Everest; and the recently inaugurated Mall of the Emirates in Dubai.
Adding to these will be the UK's Cineworld Sheffield and two unnamed German locations, all of which will be operating in time for the release of the latest instalment in the James Bond franchise, Spectre, which bows on Oct 26 in the UK and Nov 5 in Germany.
Speaking to ScreenDaily, Andrew Cripps, IMAX president of EMEA, said that the company also planned to install the laser technology in "a number in North America also before the end of the year" and that they had identified "some of the biggest museums and iconic locations [including] AMC Lincoln Square and The Smithsonian", both of which already operate IMAX screens.
This would take the total number of IMAX laser sites into double digits by the end of the year, Cripps said.
Major upgrade
The dual 4K laser projection system is equipped with a new optical engine and suite of proprietary IMAX technologies capable of projecting an image with maximum resolution and sharpness; 2D and 3D brightness; and an expanded colour gamut.
The new system also includes IMAX's next-generation sound technology, designed to increase audio immersion. It has been upgraded to 12 discrete channels plus sub-bass, and includes additional side channels as well as new overhead channels that will improve the system's ability to position sounds around the audience.
Cripps said that the increasing trend towards a high-end, premium cinema experience is necessary evolution for the medium: "My personal view is that as the home entertainment experience gets better, cinema has to continue to evolve.
"I think cinema will increasingly gravitate towards premium and luxury…exhibitors have to continue to innovate and push the boundaries and give consumers those things they can't get in the home entertainment experience."
Cripps declared that - in the face of these increasingly impressive technologies - traditional celluloid film is "going to go away".
"We embarked on this process four to five years ago and developed the laser projection system knowing that film was going to go away," he added.
Investment and innovation
The company, which operates 977 theatres in 65 countries, bought "a number of patents from Kodak" in the research and development for the laser system. Its total investment in the new technology is $60m.
IMAX currently sits at the top of the food chain in terms of the premium pricing, but rivals such as Dolby's premium cinemas are also rolling out in more territories.
"I think continued innovation in the cinema space is healthy for everybody," Cripps commented.
Cripps is also a believer in the entire luxury cinema package. As part of their recently opened Emirates Mall screen in Dubai, viewers can also have an in-theatre dining experience prepared by a celebrity chef.
"There can't just be one offering, there has to be a variety," he added. "The key is delivering that premium experience and making people feel like they got value for money."
Titles set for IMAX laser release later this year are Spectre and Star Wars: The Force Awakens.
Releases in 2016 include Batman v Superman: Dawn Of Justice, Captain America: Civil War, Alice Through The Looking Glass, The Jungle Book, Warcraft, Fantastic Beasts And Where To Find Them and Rogue One: A Star Wars Story.