Festival to open with Michaël Dudok de Wit's The Red Turtle [pictured]; Guillermo del Toro and Aardman to give masterclasses.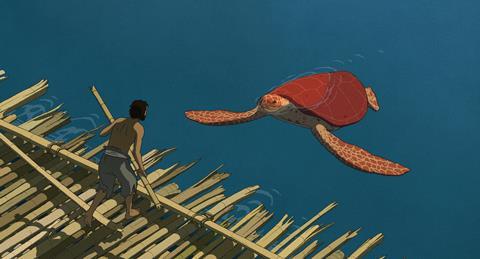 Annecy International Animation Film Festival, running June 13-18 this year, has unveiled its line-up.
New Zealand director Leanne Pooley's documentary 25 April, about the Battle of Gallipoli; Canadian film-makers Jean-François Pouliot and François Brisson's 3D hit Snowtime! (La Guerre des Tuques 3D); Claude Barras's Cannes-screener My Life As A Courgette, and Sundance discovery Nuts! are among the titles in the feature-length competition.
The festival will open with Michaël Dudok de Wit's The Red Turtle, which will premiere first in Official Selection at Cannes.
Other highlights include a preview screening of Chris Renaud and Yarrow Cheney's The Secret Life Of Pets, in the presence of the directors. Andrew Stanton will also attend the festival, accompanying Finding Dory.
First images of Ron Clements and John Musker's upcoming film Moana and Michael Thurmeier's Ice Age: Collision Course will also be shown.
The popular Work in Progress screenings will include French cartoonist Benjamin Renner's Le Grand Méchant Renard and Japanese director Sunao Katabuchi's In This Corner Of The World as well as Trolls by US film-makers Mike Mitchell and Walt Dohrn.
There will also be masterclasses by Guillermo del Toro, in which he will unveil new images of Trollhunters, and Aardman Animation founders Peter Lord and David Sproxton.
For the first time this year, the lakeside festival will fete French animation with a number of side-bars including The Mirror Effect, looking at the perception of French animation from outside the country, and an exploration of the territory's animation from the 1980s onwards asking whether there is a "French touch" in the genre.
In keeping with the French focus, prolific animation producer Didier Brunner – whose credits include Kirikou, Ernest and Celestine and The Belleville Triplets – will receive the festival's Honorary Cristal.
The festival said it had received a record number of submissions this year, 2,700 entries, against 2,606 in 2015, from 85 countries. A total of 236 films made it into the final selection.
In competition
25 April by Leanne Pooley (New Zealand)
Snowtime! (La Guerre Des Tuques 3D) by Jean-François Pouliot, François Brisson (Canada)
La Jeune Fille Sans Mains by Sébastien Laudenbach (France)
Ma Vie de Courgette by Claude Barras
Nuts! by Penny Lane
Psiconautas, the forgotten children by Pedro Rivero, Alberto Vázquez (Spain)
Seoul Station by Sang-ho Yeon (Korea)
Sheep and Wolves by Maxim Volkov (Russia)
Window Horses by Ann Marie Fleming (Canada)
Out of competition
Bad Cat by Mehmet Kurtulus, Ayse Ünal (Turkey)
Bilal by Ayman Jamal, Khurram H. Alavi (UAE)
Capture The Flag by Enrique Gato Borregán (Spain)
Gamba by Tomohiro Kawamura, Komori Yoshihiro, Ogawa Yoichi (Japan), Filosophia, Toei Company Ltd. Shirogumi Inc., Japon
Kai by Sung-gang Lee, Sang-ho Yeon (Korea)
Manang Biring by Carl Joseph Papa, Ronald Arguelles (Philippines)
Monkey King: Hero is Back by Tian Xiaopeng (China)
Pat & Mat by Marek Beneš (Czech Republic)
Regular Show: The Movie by JG Quintel (US)
The Anthem Of The Heart (Japan)
Un Rêve Solaire by Patrick Bokanowski (France)