Annecy's spectacular setting and convivial environment make it one of the most popular events on the circuit. But just how good is it for doing real business? Geoffrey Macnab reports.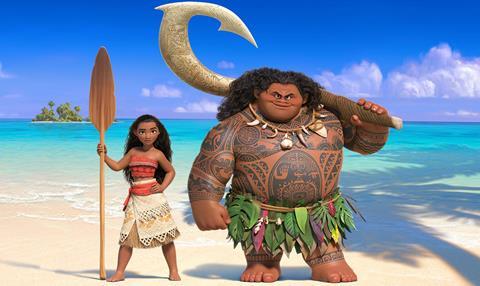 Annecy International Animation Film Festival (June 13-18) dates back to 1960 while the market, Mifa, was launched in 1985. Both events have grown at a spectacular rate in recent years. There are 63 countries represented in the market this year and more than 80 at the festival as a whole.
Annecy brings together animation professionals from film and TV, and prides itself on attracting Hollywood giants as well as respected European and Asian artists.
Pixar is hosting its regular recruitment presentations this year, while the festival is opening with The Red Turtle. Backed by Studio Ghibli, The Red Turtle is the anticipated debut feature from Michael Dudok de Wit, a revered figure in European animation for his shorts, many of which have appeared at the festival. Further features screening include Cannes title My Life As A Courgette, Illumination Entertainment's The Secret Life Of Pets and Pixar's Finding Dory, as well as footage from Disney's Moana.
"Annecy has grown into arguably the number-one event in the world for animation," says Simon Crowe, head of London-based sales agency SC Films International, who is attending with the Chinese box-office hit Monkey King: The Hero 3D, which has been selling briskly around the world, and the Japanese-produced Gamba. "It is a good place to meet producers, writers, directors and studios who are looking at the future of animation."
International guests and delegates range from industry veterans to students with portfolios in hand looking to join an animation studio or to pitch their projects. Some big names are in town this year: there is a masterclass from Guillermo del Toro, while Peter Lord and David Sproxton, founders of Aardman Animations, which is celebrating its 40th anniversary, are giving a keynote speech.
The festival unfolds against the grandeur of Imperial Palace Hotel on Lake Annecy, nestled in the French Alps. "Annecy is the most fun market of the year," says Perrine Gauthier, a producer with Belgian outfit Thuristar, which is presenting its project Mush-Mush And The Mushables at the festival. "The setting is great and you get to spend a bit more time with people than you do at Mipcom."
Regular attendees have noticed changes in recent years with feature animation assuming an ever-greater importance. "Feature films have taken the place they deserve without encroaching on other formats," says festival CEO Patrick Eveno.
As animated features are increasingly aimed beyond families, film-makers are addressing more serious issues. This year at the festival, for example, audiences will be able to see Penny Lane's competition title Nuts! Hardly children's fare, this animated documentary is the story of John Romulus Brinkley, a Kansas doctor who, in 1917, discovered he could cure impotence by transplanting goat testicles into men. Similarly aimed at a teen and adult audience is New Zealand director Leanne Pooley's 25 April, which looks at the New Zealand experience during the ferocious First World War battle of Gallipoli.
This year the festival will see a bigger than ever contingent of delegates from emerging markets in the Far East, including China. Russia is also present and Sheep And Wolves, a new animation from Moscow-based Wizart, is screening in competition. The film's producer, Vladimir Nikolaev, describes the mere act of selection into Annecy as a stamp of international approval.
"It means the movie is marketable for the global animation community," he suggests. "The fact a Russian movie is included in competition demonstrates the quality of the Russian animation sector is growing.
"Annecy is more than a competition or an award. It is an opportunity to compare experiences with industry colleagues from other countries, explore new global trends and share your own ideas."
This year, Annecy is paying special attention to virtual reality (VR) with events covering the challenge of creating animated stories in VR and how the technology will affect the evolution of animation.
International sales agents and feature film producers are attending the event in growing numbers, as are new regulars of the festival circuit Netflix and Amazon. Although the feature crowd has traditionally been put off by the slower pace of animation — which take a minimum of two years to produce — the digital era has sped up the process and Annecy is a networking event par excellence. Feature film-makers are also cognisant of animation's advantage over live action in that it is not cast dependent and can be easily customised for local market tastes.
Place to pitch
Deals are sealed in Annecy, with sales agents meeting distributors and international broadcasters in what is regarded as a relaxed environment. "There's the Disney Channel, Germany; there's RTL2 who buy a lot of animation, TF1, Canal Plus. It's a great time to talk to these people," says SC Films' Crowe.
At the Mifa Pitches (June 15-16), producers, distributors and financiers get the lowdown on feature films, transmedia projects, shorts, TV series and specials, and 'animation du monde', which explores the potential of creators of projects from emerging countries.
Among this year's feature pitches is Carlos Fernandez and Paco Roca's Spanish title Memoirs Of A Man In Pyjamas, adapted from Roca's graphic novel about love and friendship, and Zoltan Miklosy and Attila Herko's Hungarian western Solo Lobo.
Attendees speak highly of Pitches as an excellent place to discover projects and sometimes to board co-productions. But, cautions one attendee, Mifa is not an easy event at which to sell shorts.
"If you're going there for series or co-production deals, it is probably the best place to be," says Dutch sales agent Sydney Neter of SND Films. "There's a huge market and all the big co-producers are there." But, he points out, broadcasters who are found at MIP Junior, for example, are not always in Annecy. Even so, Neter sees the festival as an excellent place to pick up projects.
It was in Annecy that Belgian producer and distributor Annemie Degryse of Brussels-based Lunamine began her collaboration with leading French company Folimage on A Cat In Paris, which went on to be Oscar nominated in 2010. Degryse first came on board the production as a co-producer at the festival and has gone on to work with Folimage on the subsequent features, Phantom Boy and Tulip. It was also at Annecy that Degryse boarded Denis Do's Khmer Rouge-themed Funan, which was being pitched in the festival's Creative Focus showcase in 2013. It will go into production later this summer.
One challenge for Annecy is to balance the interests of the French animation industry with those of the festival's international visitors. When Mifa was founded in 1985, the main intention was to support and strengthen French animation. Today, France is considered one of the "big shots" in global animation, as Eveno puts it. The country sits alongside Japan as one of the leading countries in animation, trailing the US.
This year, festival director Marcel Jean is putting French animation under the spotlight in a special focus called The Mirror Effect. It will celebrate the sector and explore how the industry is seen from Hollywood. As the focus underlines, French animation is characterised by its diversity.
There are companies such as Illumination Mac Guff (owned by Illumination and heavily involved in films such as Despicable Me), as well as the big players led by EuropaCorp (whose animated films include Arthur And The Invisibles) and Gaumont, which are also capable of making ambitious and expensive animated features with global appeal. There are also plenty of animation studios, such as Folimage, that are celebrated for their artistry and for producing animation with a handcrafted feel.
A large contingent of Flemish producers will be in town, including Vivi Film, Thuristar and Walking The Dog, for a showcase of Flemish animation. All will pitch new projects and talk up the attractions of Belgium — with its tax shelter system — as a co-production partner. The festival is also spotlighting Canada and Tokyo.
"You always leave Annecy thinking that you had a good time, you met great people and you saw a lot of talent," Gauthier says of an event whose influence is growing.