Zombillenium announced as opener; China named as guest country, Guillermo del Toro to return.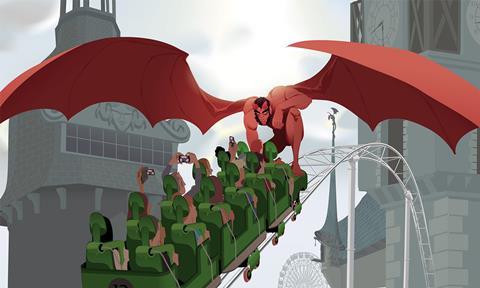 French animator and illustrator Arthur de Pin's child-friendly comedy-horror tale Zombillenium (pictured) - set against the backdrop of an amusement-terror park were the staff are a motley crew of vampires, zombies and werewolves - will open this year's edition of the Annecy International Animated Film Festival, running June 12-17 this year.
It is among nine special event screenings including Pixar's Cars 3, which will be proceeded by a presentation of footage from Mexico-set, Day of the Dead-inspired drama Coco in the presence of director Lee Unkrich, producer Darla K. Anderson and co-director Adrian Molina; Despicable Me 3 and The Big Bad Fox And Other Animals.
Zombillenium will also compete in the 10-title feature film competition.
Other contenders for Annecy's Cristal for best feature film include Iranian director Ali Soozandeh's Tehran Taboo, exploring sexuality in the Iranian capital, which is due to premiere in Cannes Directors' Fortnight; Jian Liu's small-town China crime caper Have A Nice Day, which made its debut at the Berlinale; UK film-maker Roger Mainwood's Ethel And Ernest and Loving Vincent, capturing the life of the tortured artist through animation in the style of his artwork.
Another 13 features will be showcased Out of Competition including anime fantasy Ancien And The Magic Tablet, the latest picture by Japanese Ghost In The Shell creator Kenji Kamiyama, and German director Katrin Rothe's animated documentary 1917 - The Real October capturing events in St Petersburg during the Russian Revolution.
Work in Progress
The Work in Progress selectionm, one of the biggest draws for professionals and the large contingent of animation students which attends every year - will give sneak peaks of a dozen feature and TV projects including Nora Twomey's Angelina Jolie-executive produced The Breadwinner, about a girl living under the Taliban in Afghanistan, Joann Sfar's Little Vampire and Jorge Guiterrez's Kung Fu Space Punch.
China Focus
This year's guest country is China. The territory focus will explore its long history with animation dating back to the pioneering Wan Brothers, who made 30-odd shorts, melding the aesthetics of traditional artwork with the American cartoons they saw in Shanghai, in the 1920s and 30s and then made China's first feature-length animation feature Princess Iron Fan in 1941. It will be among 85 Chinese titles screening in the programme, spanning from the 1920s up until to today.
The country has also reserved a 183 sq m space in Annecy's MIFA market to mark the focus.
MIFA Expansion
In other MIFA news, the market will also be expanding in duration and size with the addition of a fourth day, so it will run June 13-16, as well as an extra 1,000 sq m of exhibition space.
The market is also launching a one-day event called Mifa Campus aimed at connecting young creatives with established professionals. Annecy habitué Guillermo del Toro will return as a patron for the inaugural edition and spill the beans on his own early career trajectory in a "Conversation with" event aimed at the participants.
In 2016, there were some 2,800 badge-holders, 1,200 companies and 370 buyers, distributors and investors at the market.
Guest Speakers
Other industry speakers in other sections of the programme will include Sony Pictures Animation president Kristine Belson; veteran Disney director and animator Glen Kleane and Disney Television Animation top executive Eric Coleman.
Chris Lavis and Maciek Szczerbowski, co-founders of Clyde Henry Productions in Montreal, will give a masterclass touching on their works such as Madame Tutli-Putli, Higglety Pigglety Pop!, There Must Be More to Life and the most recent Cochemare.
Other Focuses
There will also be a focus on immersive animation experiences dotted throughout the programme, including a screening of Jaime Hewlett's music video Saturn Barz for Gorillaz; Sundance title Dear Angelica and the National Film Board of Canada's Blind Vaysha.
The programme also includes a late night screenings devoted animated erotica and featuring titles such as Tex Avery's Little Tinker, Raoul Servais' Nocturnal Butterflies and Hefang Wei's The Banquet Of The Concubine.
Annecy 2017 line-up:
COMPETITION
In This Corner of the World

, Sunao Katabuchi (Japan)

Ethel and Ernest

, Roger Mainwood (UK)

Big Fish & Begonia

, Xuan Liang, Chun Zhang (China)

Have a Nice Day

, Jian Liu (China)

Loving Vincent

, Dorota Kobiela, Hugh Welchman (Poland, UK)

A Silent Voice

, Naoko Yamada (Japan)

Lu Over the Wall

, Masaaki Yuasa (Japan)

Zombillenium

, Arthur de Pins, Alexis Ducord (Belgium, France)

Animal Crackers

, Tony Bancroft, Scott Christian Sava, Jaime Maestro (US)

Tehran Taboo

, Ali Soozandeh (Germany)
OUT OF COMPETITION
Ana y Bruno

, Carlos Carrera (Mexico)

Little Heroes,

Juan Pablo Buscarini (Venezuela)

1917 – The Real October

, Katrin Rothe (Germany)

The Man Who Knew 75 Languages

, Anne Magnussen, Pawel Debski (Norway)

Tea Pets

, Gary Wang (China)

L

ost In The Moonlight,

Hyun-joo Kim (South Korea)

Richard The Stork

,

Reza Memari, Toby GenkeL, Germany, Belgium, Luxembourg, Norway

In The Forest Of Huckybucky

, Rasmus A. Sivertsen (Norway)

Ancien And The Magic Tablet

, Kenji Kamiyama (Japan)

Rudolph The Black Cat

,

Kunihiko Yuyama, Motonori Sakakibara (Japan)

I'll Just Live In Bando

, Yong Sun Lee (South Korea)

Deep

,

Julio Soto (Spain)

Tad, The Lost Explorer, And The Secret Of King Midas,

Enrique Gato Borregán, David Alonso (Spain)
WORK IN PROGRESS (Features)
The Breadwinner

,

Nora Twomey (Canada, Ireland, Luxembourg)

Little Vampire,

Joann Sfar (France)

Godzilla

,

Kobun Shizuno and Hiroyuki Seshita (Japan)

Wish Dragon

,

Chris Appelhans and Michelle Staphylas (China)

Kung Fu Space Punch

,

Jorge Guiterrez (US)

Captain Morten and the Spider Queen

(Estonia, Ireland, Belgium)

Tito and the Birds

Gabriel Bitar, André Catoto Dias and Gustavo Steinberg (Brazil)

Zero Impunity

,

Nicolas Blies, Stéphane Huber-Blies (Luxembourg)