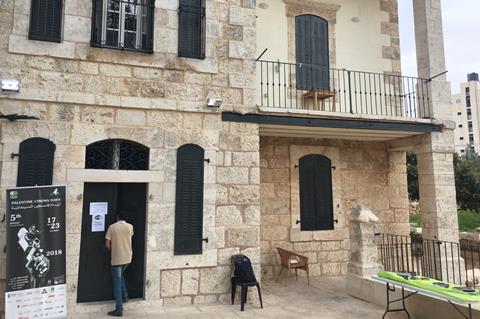 An arts and culture centre in the West Bank town of Bethlehem, created by Palestinian director Annemarie Jacir and her artist sister Emily Jacir, was raided by the Israeli army over the weekend.
Jacir put out a statement on Monday saying that Israeli forces had broken into the centre – known as the Dar Yusuf Nasri Jacir for Art & Research – on Saturday evening.
"We wanted to let you know first and foremost all team members and artists are safe," read the statement. "There has been extensive damage throughout the building. The offices were ransacked, and equipment was taken including a computer, hard drive, cameras, and more."
The army raid came amid a flare-up in the Israeli-Palestinian conflict over the past two weeks, which was first sparked by Israeli moves to evict Palestinians from their long-time homes in East Jerusalem.
According to Jacir, the cultural centre's community garden was destroyed last week as tensions rose across the West Bank
"Earlier in the week our Urban Farm was destroyed and burnt to the ground during several fires which surrounded the house. Our resident artists were forced to leave as the area is not safe," said the statement.
"We are cleaning up and will fix all the damage. We thank you for your messages of support. Meanwhile, we will continue to stand by our mission to protect cultural life for thousands of artists, students and community members."
The Jacir sisters created the cultural centre in 2014 in the 19th century stone Arab house that was once home to their late grandparents.
Built at the entrance to Bethlehem on the historic El Khalil road connecting the West Bank city of Hebron to Jerusalem, it now lies just 200 metres from a section of the Israeli Separation Wall built around the Jewish holy site of Rachel's Tomb on the edge of the city.
In recent years, the area around the house has been a flashpoint for clashes between Israeli defence forces and Palestinians but this is the first time the house has been raided by the Israeli army.
In more peaceful times the centre runs a programme of educational, cultural, cinema and agricultural activities as well as a residency programme that has recently welcomed Cuban-American writer and artist Coco Fusco, UK writer Isabella Hammad and American-Chilean composer and recording artist Nicolas Jaar.
Its initiatives range from gardening programmes for young residents of the nearby Aida, Dheisheh and Azza refugee camps to masterclasses and seminars aimed at fostering exchange between local and international artists.