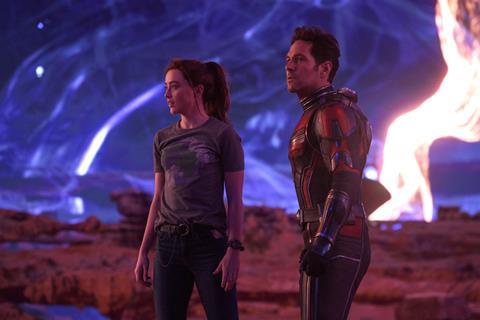 Disney and Marvel's Ant-Man and The Wasp: Quantumania has grossed $17.5m from its Thursday preview screenings in North America, putting the latest Marvel Cinematic Universe release on course for a strong performance over the four-day President's Day holiday weekend.
Internationally, Quantumania opened in 26 more markets on Thursday, bringing its gross from two days in a total of 43 markets to $23.8m.
The tally from North American previews put the new film well ahead of 2015's original Ant-Man (with a $6m preview take) and 2018's Ant-Man and The Wasp ($12m) and just ahead of 2017's Guardians of the Galaxy Vol 2, which took $17m from previews on the way to a $147m opening weekend.
A four-day opening of between $100m and $125m is being projected for Quantumania. The four-day opening record for the President's Day weekend is held by Marvel/Disney's Black Panther, which took $242.2m in 2018.
Disney is estimating that Quantumania's first two days internationally put it 68% ahead of Ant-Man (which ended up taking $339.1m internationally) and one percent ahead of Ant-Man and the Wasp (which went on to $406m outside North America).
Thursday saw Quantumania opening at number one in all its new European markets, with $1.8m in France (putting it 16% of Ant-Man and the Wasp), $1.3m in Germany (47% ahead of the previous installment) and $1m in Italy (16% ahead).
In Latin America the new film started with $2.4m in Mexico and $1.3m in Brazil. In Asia-Pacific, Korea produced $2.2m and Australia $1.5m.
Quantumania opened on Friday in China and Disney was estimating a number one opening day gross of $6.3m from the market. Other openings on Friday came in Spain, Japan, the UK and India.