Fox's sequel scores $14.9m (£8.7m) debut, including previews, to dethrone Transformers: Age of Extinction, as two event cinema releases – Monty Python and André Rieu – land in the top five.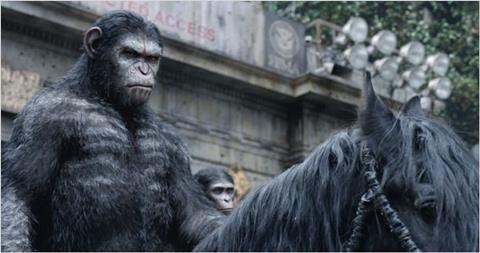 Defying the weather, Dawn of the Planet of the Apes is off to an excellent start at the UK box office, landing top on debut.
Fox's sequel swung to a $14.9m (£8.7m) opening, including $2.7m (£1.6m) in previews, from its 561 sites at a muscular site average of over $25,000 (£15,000). It's worth noting that its Fri-Sun tally of $12.1m (£7.1m) would have also seen it comfortably land the top spot.
Dawn's debut is ahead of that of Rise of the Planet of the Apes which opened with $9m (£5.8m), including $1.9m (£1.1m) in previews, on its way to $35.4m (£20.77m), a total that Dawn should easily surpass.
In terms of 2014 openings, Dawn recorded the fourth biggest opening of the year but if you exclude previews, it's the second biggest Fri-Sun takings behind stablemate X-Men: Days of Future Past.
Also for Fox, How to Train Your Dragon 2 held firm in second with a $3.2m (£1.9m) fourth weekend, but second of nationwide release. The animated sequel has now flown to $21.9m (£12.9m) in its attempt to surpass its predecessor's $29.6m (£17.4m) UK haul.
The Fault in Our Stars stands at $18m (£10.6m) after five weeks in play.
PARAMOUNT
Last week's champion Transformers: Age of Extinction dropped two places to third with a $3.1m (£1.79m) weekend through Paramount.
Given its extended previews, it is effectively in its third weekend at the UK box office and has so far amassed $26.5m (£15.52m). Its first target is to surpass Transformers' $40.1m (£23.5m) UK lifetime gross, but Age of Extinction may struggle to challenge the series' highest grosser, Dark of the Moon's $48m (£28.11m).
EVENT CINEMA
A strong weekend for event cinema releases saw two chart in the top five and one break a UK record.
Charting fourth was Picturehouse's Monty Python Live (Mostly) with a non-final opening of $2.2m (£1.26m) from its 580 cinemas last night [July 20]. Including advance encore sales, the final ever performance of the comedy icons from the O2 has grossed $2.6m (£1.64m).
The opening is sixth on the all-time list of event cinema releases, behind the likes of Doctor Who: The Day of the Doctor, and marks a great result given it was simulcast on TV.
Equally impressive was CinemaLive's release of André Rieu's 2014 Maastricht Concert which grossed $1.4m (£830,586) from its 410 sites on July 19-20 to chart fifth. This marks the highest grossing music concert event release of all time in the UK, following the record-breaking opening of Rieu's 2013 concert.
UNIVERSAL
Now in its fourth weekend of release, Universal's Mrs. Brown's Boys D'Movie took $944,000 (£553,000) for a healthy $22.6m (£13.25m) to date.
Also for Universal, Boyhood posted a 0% drop in its second weekend (excluding previews) to gross $531,000 (£311,000) with a site average of almost $3,400 (£2,000).
Richard Linklater's critically acclaimed latest feature is now up to $1.5m (£896,000) in the UK and will shortly hit the £1m mark, a feat not achieved by his noted Before trilogy.
VERTIGO FILMS
Pudsey the Dog: The Movie started its UK run with $762,000 (£446,450), including previews, from its 407 sites through Vertigo Films.
That marks the lowest-ever opening for Nick Moore's directorial outings, which includes the $2.2m (£1.3m) bow for Horrid Henry: The Movie. The film, about the Britain's Got Talent winner, faces family competition this week with the arrival of Earth to Echo.
SONY
Passing the £18m mark in its seventh weekend, Sony's 22 Jump Street shot to a further $384,000 (£225,000) for a terrific $30.8m (£18.04m) so far in the UK.
EONE
Falling just over 50% in its second weekend, eOne's Begin Again sung its way to an additional $355,000 (£208,000) for $1.9m (£1.1m) to date. As expected, it is now director John Carney's best-ever UK performer, surpassing Once's $1.2m (£682,000) total.
DISNEY
Maleficent conjured up $319,000 (£187,000) after a 40% drop in its eighth weekend to climb to $31.2m (£18.31m) to date through Disney, still in with an outside shout of hitting £20m.
WARNER BROS
After three weeks in play, Tammy has grossed $2.4m (£1.4m) through Warner Bros.
SODA PICTURES
Documentary Finding Vivian Maier posted a $48,000 (£28,300) UK bow from its 25 sites through Soda Pictures.
PECCADILLO PICTURES
Released in 11 sites through Peccadillo Pictures (some of which were "Divine A Long" event screenings), I Am Divine recorded a UK debut of $18,000 (£10,592).
STUDIOCANAL
Winner of the François Chalais Prize at Cannes 2013, Grand Central grossed $11,400 (£6,707) from its ten sites through StudioCanal.
From its one-site release at Cine Lumiere, Philippe Garrel's Jealousy took $413 (£242).
DOGWOOF
Mike Myers' directorial debut Supermensch: The Legend of Shep Gordon posted a UK bow of $7,000 (£4,097) from its 12 sites through Dogwoof.
UPCOMING RELEASES
This week sees saturation releases for Paramount's Hercules, eOne's Earth to Echo and Universal's The Purge: Anarchy.
Trinity's Believe and StudioCanal's The House of Magic both receive wide releases, while Curzon Film World's Joe and Arrow Films' Northwest are among the films receiving a limited release.