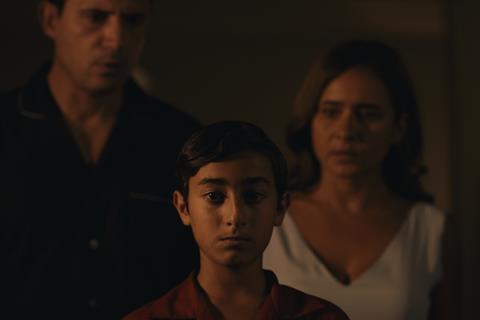 Groundbreaking Arabic-language vampire feature Bloodline has secured a Halloween launch on Shahid VIP, the rising MENA region streaming platform which has seen subscriber numbers surge since a revamp by parent company MBC Group earlier this year.
The feature, which will launch on Shahid on October 30, brings together some of the Arab world's hottest directing, acting and producing talent.
It marks the feature debut of respected UAE-based producer and director Rami Yasin, whose producing credits include Sea Shadow, Rattle The Cage and The Worthy. His short film Overtime screened at the Venice Film Festival in 2014.
"As an avid vampire fan, Bloodline has been a dream project of mine for many years. It is a unique story for the Arab film industry, and I relished the challenge of creating the Arab world's first vampire-themed film, hoping to make my mark on this genre," he said.
Egyptian star Nelly Karim, best known for her roles in Egyptian blockbuster The Blue Elephant as well as international festival hits such as 678 and Clash, co-stars opposite prolific Tunisian star Dhafer L'Abidine, whose recent credits include The Eddy and Bride Of Beirut.
They play the parents of twin boys. When one of their sons is left in a coma following an accident, the pair conceive an unorthodox plan to bring him back to life. While the plan seemingly works, the young boy soon begins to exhibit disturbing behaviour and sinister intentions. Twin brothers John and Pieter Ramy make their big-screen debut in the film.
Bloodline is the first completed project to come out of a partnership between Emirati media and entertainment company Image Nation Abu Dhabi, MBC Studios (the film and TV production arm of MBC Group) and Dubai-based retail and leisure conglomerate Majid Al Futtaim.
The partnership was first announced at the Cannes Film Festival in 2019. Under the alliance, the partners pledged to pool resources and expertise on film and TV projects across the Middle East, with a focus on Saudi Arabia, the UAE and Egypt
The production was lead produced by Mohamed Hefzy at Cairo-based Film Clinic with Emirati producer and director Majid Al Ansari (Rattle The Cage) and Romanian producer Gabi Antal (Beowolf, Cold Mountain) taking executive producer credits.
"Rami is a unique talent and it was an incredible experience working with him on his first feature-length film," said Hefzy, who brokered an original worldwide distribution rights deal for the film with Rotana Studios, the film arm of Saudi prince Al-Waleed Bin Talal's Rotana Group.
Rotana in turn sold the exclusive streaming rights to Shahid VIP for the film's "first-look" release. The platform and MBC Studios act as separate entities from their parent company MBC Group, so the acquisition was conducted as an external distribution deal rather than as an in-house agreement.
Following its rebranding and revamping earlier this year by parent company MBC Group, Shahid VIP has seen subscriber numbers rise from 100,000 to 1.4 million over the course of 2020. MBC Group CEO March Antoine d'Halluin said in a recent interview that longer-term targets were for two million subscribers by mid-2022 and five million by the end of 2024.