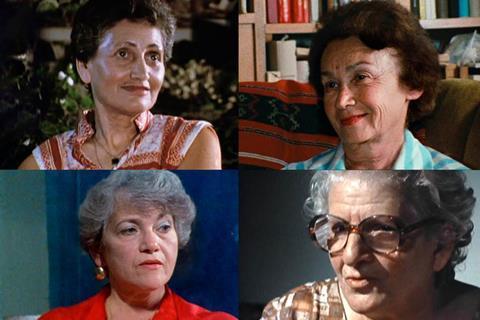 Arte Distribution, the sales arm of pan-European broadcaster Arte, has sold North American rights to Claude Lanzmann's holocaust survivor documentary The Four Sisters to the Cohen Media Group (CMG).
The deal marks a first foray into theatrical film sales for Arte Distribution, which normally focuses on sales of the Arte catalogue to broadcasters and streaming platforms worldwide.
"This is actually our first theatrical deal," Céline Payot-Lehmann, head of distribution at Arte, told Screen. "We plan indeed on taking on only a few prestigious films a year co-produced by Arte for theatrical and festival audiences."
Payot-Lehmann negotiated the deal with John Kochman, executive vice president of CMG.
The Four Sisters consists of a quartet or remastered films, originally intended for Lanzmann's epic work Shoah.
It revolves around four Holocaust survivors with unique destinies, each finding herself unexpectedly and improbably alive after the end of the Second World War: Ruth Elias from Ostrava, Czechoslovakia; Paula Biren from Lodz, Poland; Ada Lichtman from further south in Krakow; and Hannah Marton from Cluj, or Kolozsvár, in Transylvania.
CMG founding CEO and chairman Charles S. Cohen said of the acquisition: "We are honored to have acquired these deeply moving and important films by a filmmaker who holds a unique place in cinema history."
"Cohen Media Group is the perfect North American partner for this film", said Lehmann. "They are a reputable distributor, with an excellent catalog of European and French films."
The Four Sisters is produced by David Frenkel's Paris-based Synecdoche and Arte France.
CMG has committed to giving each film a theatrical release in North America.