EXCLUSIVE: MFI reveals first pre-sales on Cate Shortland's third feature.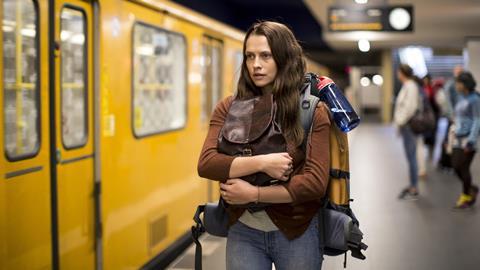 UK Distributor Artificial Eye has acquired Cate Shortland's Berlin Syndrome, starring Teresa Palmer as a backpacking photojournalist whose holiday romance takes a sinister turn when she is imprisoned by her new lover.
The Paris-based Memento Films International, which is unveiling a teaser at the AFM, has also sold the film to Turkey (Bir Film), ex-Yugoslavia (Megacom), South Korean (Yejilim), Indonesia, the Philippines and Malaysia (Queen), and the Middle East (Falcon).
The company has also released a first image of Palmer on the U-Bahn, or underground, in Berlin where the production has just finished shooting exteriors before heading to the studio in Melbourne for the interiors.
Much-in-demand Palmer also has upcoming roles in Mel Gibson's World War Two drama Hacksaw Ridge, the James Wan-produced horror thriller Lights Out and Nicholas Sparks' adaptation The Choice.
Berlin Syndrome is Australian Cate Shortland's third feature after the award-winning 2012 World War Two drama Lore and Somersault, which starred Abbie Cornish as young girl figuring out the difference between sex and love. The latter premiered in Cannes Un Certain Regard in 2004.
Her latest is an adaptation of Melanie Joosten's book Berlin Syndrome by Shaun Grant, who co-wrote Justin Kurzel's Snowtown.
Polly Staniford at Aquarius Films is producing with backing from Screen Australia, Fulcrum Media Finance,
Film Victoria & DDP Studios.
Entertainment One will distribute Australia.